Of the likely voters surveyed by the Rasmussen pollsters, 54 percent see the President as wanting the tsunami of illegal alien kids crossing the border to remain in the country.
Too bad the poll didn't ask voters what they thought was the reason for Obama's welcome to tens of thousands of expensive high-maintenance foreign children.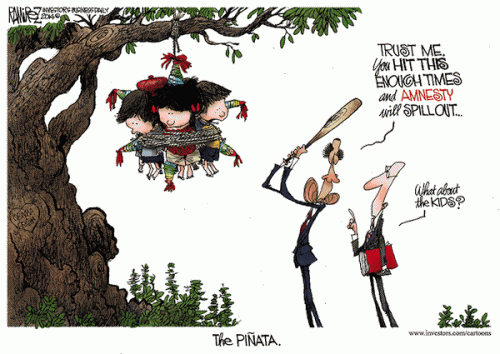 Citizens are paying attention to the border chaos, and a strong majority wants the foreign children sent home. The administration has helpfully kept the issue front and center by redistributing the unwanted kiddies around the nation to local school districts.
54% Believe Obama Wants Most New Illegal Immigrants to Stay, Rasmussen Reports, July 31, 2014

Voters think President Obama is doing a poor job handling the latest immigration crisis and believe he wants to let most of the new illegal immigrants stay here despite majority support for their quick deportation.

The latest Rasmussen Reports national telephone survey finds that 54% of Likely U.S. Voters want the U.S. government to send these new illegal immigrant children home as quickly as possible. Thirty-six percent (36%) think instead that the government should process them more slowly to determine whether any should be allowed to stay in the United States. Ten percent (10%) are undecided. (To see survey question wording, click here.)

This marks a slight increase in favor of quick deportation from earlier this month.

However, only 22% believe the president is interested in doing what most voters want – sending most of these new illegal immigrants home. Fifty-four percent (54%) believe he is more interested in letting most of them stay in the United States. One-in-four voters (24%) aren't sure what Obama has in mind.

Among voters who favor quick deportation, 63% believe the president is more interested in letting most of these illegals stay in the United States.

Just 22% of all voters now rate the Obama administration's handling of this latest immigration crisis as good or excellent. Over half (53%) think the administration is doing a poor job in this area.

But then 46% believe the administration through its statements and policies has encouraged this wave of thousands of illegal immigrant children in recent weeks. Thirty-one percent (31%) disagree, but 23% more are not sure.

The survey of 1,000 Likely Voters was conducted on July 29-30, 2014 by Rasmussen Reports. The margin of sampling error is +/- 3 percentage points with a 95% level of confidence. Field work for all Rasmussen Reports surveys is conducted by Pulse Opinion Research, LLC. See methodology.

The administration has been begun secretly moving these new illegal immigrants to detention centers around the country, but most voters say they don't want them housed in their state and say any legislation passed by Congress to deal with the problem should focus on sending them home as soon as possible. Continue reading this article