The daily news of worsening barbarity from Allah's energetic gangsters is apparently having a negative effect on Americans' opinion of Muslims residing in the United States — mass beheadings and crucifixions will do that.
Below, ISIS jihadists behead 21 Coptic Christians in Libya.
As a result of blowback from jihad unpleasantries, Muslim parents located here are imparting traditional Islamic supremacism to Mohammed Jr. and little Aisha, teaching them to behave differently because Americans are racist and Islamophobic. Better chill that discussion about headchopping being a proper punishment for non-Allahbots, for example. Muslims are taught that dogs are unclean, but kicking the despised dog of infidel neighbors is also probably a no-no.
A report from Muslim-thick Detroit says that some Islos may tell the kiddies to "downplay their religion" — in other words, "Don't take your swords to town, son."
Too bad that Americans are so darn awful! Perhaps Allah's loyal helpers would be happier living in Islamic lands, which are numerous, diverse and welcoming to the ummah.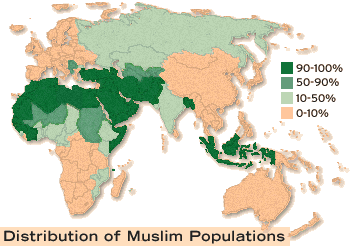 Immigrants come to America, and immigrants are free to leave. Islam and America are not a good fit. We like freedom and they like sharia oppression. We believe in gender equality and they approve of the enslavement of women, as directed by the Koran.
Muslim immigration is destroying Europe. America should learn from their catastrophe and realize that all diversity is not equal.
Metro Detroit Muslims have 'the talk' with kids about Islamophobia, Fox News Detroit, February 16, 2015

When it comes to the tragedy in Chapel Hill, most Americans have probably moved on.

But if you're a Muslim or part of the Middle Eastern community in America, it's hard to look away when the victims look like you.

FOX 2: "Was there ever a feeling that those could have been my kids?"

"Of course, instantly," said Nofila Haider.

Haider is a Muslim and is preparing her daughters Nadeen and Naveen for the likelihood they'll be viewed with suspicion, treated unfairly or worse because of their religion.

"Unfortunately we have to talk about these things," she said. "People of different races religions different cultures and I have to tell them some people don't appreciate people who are different from them."

The talk is one that Muslims and Middle Eastern parents in America have been having since 9/11 and recently, since Chapel Hill.

"My eldest son in particular, when I told him about it, he was just shaking his head," Haider said. "And he was like, 'No one likes us.'" Continue reading this article