According to the ever-hopeful open-borders media, the border surge of has diminished because of subtle enforcement. The AP proclaimed on August 7, "Fewer unaccompanied kids streaming across border," assuming effectiveness of the administration's gentle messaging in Central America of Please Don't Come.
It's more likely that the foreign moocher crowd is waiting until the famously brutal heat slacks off in the Southwest. The homies have doubtless heard from friends and relatives about the detention centers that are like hotels only better, with in-room cable TV, first-class healthcare and free stuff galore like brand new clothes.
It's now estimated that another 30,000 will arrive through Obama's open borders over September and October, adding to the chaos in schools and local communities that already stretched to the breaking point by being forced to be welfare provider to the Third World.
Below, because kids are seen as keys to the US, whole families come, and lots are admitted since Border Patrol agents are told by superiors to release as many as possible from custody.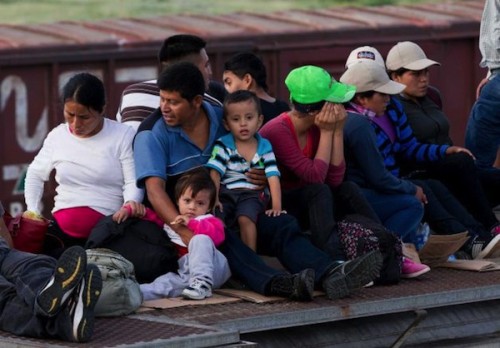 The Central American illegals are expensive to educate because some don't even speak Spanish or have attended school at all.
The upshot is that American students are being shortchanged as school districts rearrange their budgets to hire staff specific for the foreigners. Instead of getting new computers or an upgrade to the library to benefit citizen students, schools will instead hire Spanish-speaking teachers and counselors for the foreign moochers.
Official: Second illegal immigrant wave of 30,000 coming in September, October, Washington Examiner, August 14, 2014

A second wave of some 30,000 unaccompanied illegal minors from violence-ravaged Central American nations is expected to swamp the U.S.-Mexico border in September and October, a crisis that could be worse than the one that has already pushed 62,000 children into the U.S., according to a top immigration group.

"Right now it's just too hard for them to cross, but we expect when it cools down a little bit in August or in September, October, we'll see another surge again," said Tiffany Nelms with the U.S. Committee for Refugees and Immigrants, a key support group handling the current crisis.

A second wave will pressure border agents and support groups far more than the previous surge when 62,000 arrived over six months. Continue reading this article