Self-driving vehicles are coming on strong, faster than anyone knowledgeable thought a few years ago. Self-driving vehicles are being tested for real world use, and highway laws are being rejiggered to accommodate the new tech future.
But driving is a major jobs category, as shown by the map below, taken from an interactive NPR graphic in the 2015 article Map: The Most Common Job In Every State.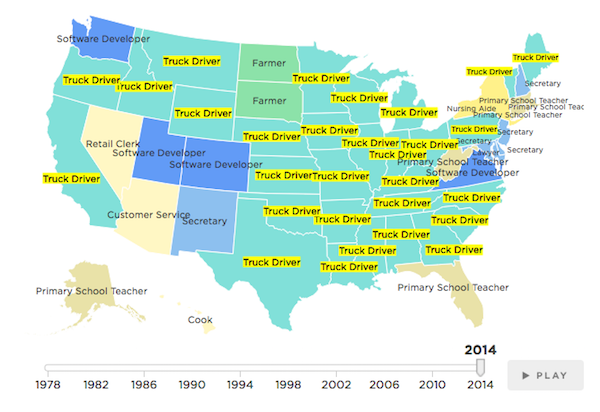 Millions of driving jobs still exist in the US because it's one gig that could not be outsourced to China, but self-driving technology now threatens that employment. Indeed, as a San Francisco writer asks, Self-driving trucks: what's the future for America's 3.5 million truckers?
Of course, it goes without saying that America no longer needs to import immigrants to drive our trucks given the coming technology. There is supposedly a shortage of drivers now, leading to a push for immigrants, but that won't last long. The future is automated, including on the highways.
It was news last October when a self-driving truck from the Otto company traveled 120 highway miles to deliver a load of beer:
The following article was written by Martin Ford, author of the book Rise of the Robots: Technology and the Threat of a Jobless Future. His knowledge on the subject adds to the big picture of how our society is on the edge of a foundational transformation to work and the economy.
Driverless trucks: economic tsunami may swallow one of most common US jobs, By Martin Ford, The Guardian, February 16, 2017

America is producing more than ever before, but it is doing so with fewer and fewer workers. Once trucks become automated, where will these jobs go?

In April 2016, Uber announced the acquisition of Otto, a San Francisco-based startup that has developed a kit that can turn any big rig into a self-driving truck.

The Otto technology enables complete autonomy on highways: trucks can navigate, stay in their lane, and slow or stop in response to traffic conditions completely without human intervention. Otto's equipment currently costs about $30,000, but that is certain to fall significantly in the coming years.

Otto is by no means alone. Massive automated vehicles are already commonly used to move materials for the Australian mining industry. Daimler, the German multinational company, has likewise demonstrated its own model, a giant 18-wheeler with a "highway pilot" mode available (meaning a driver has to remain present, prompting the head of the US branch to say that "tomorrow's driver will be a logistics manager"). Another approach is to use automated convoys, in which self-driving trucks follow a lead vehicle.

It seems highly likely that competition between the various companies developing these technologies will produce practical, self-driving trucks within the next five to 10 years. And once the technology is proven, the incentive to adopt it will be powerful: in the US alone, large trucks are involved in about 350,000 crashes a year, resulting in nearly 4,000 fatalities. Virtually all of these incidents can be traced to human error. The potential savings in lives, property damage and exposure to liability will eventually become irresistible.

There's only one problem: truck driving is one of the most common occupations in the US.

Once replaced by automation, where will these jobs go?

As of 2015, a typical production worker in the US earned about 9% less than a comparable worker in 1973. Over the same 42 years, the American economy grew by more than 200%, or a staggering $11tn.

For millions of average Americans, the reasonable expectations of their youth – a steady job, home ownership, college education for their children – have degraded into decades of stagnation, even as they have been continuously bombarded by news of the overall growth and prosperity of the US economy.

The driving force behind this transition has been technology. It is widely recognized among economists that while the impact of globalization has been significant, especially in specific regions of the country, robots and factory automation have been a far more powerful force. Indeed, even those jobs that did migrate to China are now evaporating as factories there aggressively automate. Continue reading this article