Last spring, we learned that Disney, the fabled story-teller of moral goodness for children, axed its American IT department so it could replace them with cheaper Indian workers. The citizens were forced to train their foreign replacements or else lose their severance package. The Americans were also supposed to keep quiet about how shabbily they had been treated.
But a couple of workers were interviewed by a Florida television station this week to tell their story, and the firings were as bad as you could imagine. The two men interviewed were the top brains behind making Disney's park operation user-friendly and had received high praise for their tech work. When they were invited into the boss's office, they did not expect to be cut.
Below, former Disney workers Dave Powers and Leo Perrero.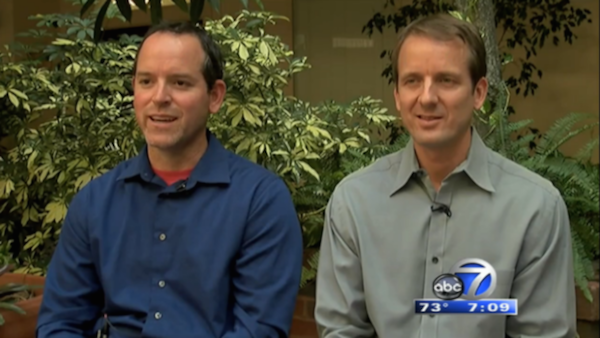 The Disney case and a flurry of other H-1b firings, particularly the mass layoff of hundreds from the public utility Southern California Edison, led to a Senate hearing chaired by America's Senator Jeff Sessions that included several fine testimonies.
The report includes some helpful statistics, like the number of H-1b workers in the US (800,000) and the fact that only 26% of science and engineering graduates are currently employed in a STEM occupation.
Sadly, the story hints that the former Disney workers are no longer employed in tech, and they think that the field is no longer available for young Americans who therefore should not study STEM fields in college.
The H-1b program has been known to have "loopholes" for years, but Congress hasn't gotten around to fixing them (despite some calls for reform).
In fact, Senator Rubio has a bill that would triple the number of  H-1b workers to replace American workers.
EXCLUSIVE: Former employees speak out about Disney's outsourcing of high-tech jobs, By Rebecca Vargas, ABC News, Sarasota, Florida, October 28, 2015

ORLANDO, Fla. — Just months before the holidays and on the heels of a great performance review, no less. A VP invites David Powers and Leo Perrero into his office, both expecting pats on the back. Instead they hear the dreaded words: You are being laid off.

"When a guillotine falls down on you, in that moment you're dead… and I was dead," says former Disney employee David Powers.

Powers and Perrero were two of the brains behind your magical Disney World experience. For the past 10 years, both worked behind the scenes in the IT field, using high-tech data to ensure all points of sale — from tickets to resort stays — were seamless for visitors. Attaining some of the highest recognitions Disney could give, being let go was the last thing they expected.

"I'm in the room with about two-dozen people, and very shortly thereafter an executive delivers the news that all of our jobs are ending in 90 days, and that we have 90 days to train our replacements then we won't get a bonus that we've been offered," says Leo Perrero, a former app developer for Disney. Continue reading this article