Does La Raza run a complainer training program for illegal aliens? Moocher moms from Central America (yes, they're back) are griping about the service at one of America's most deluxe detention centers. Apparently the illegal alien kiddies are "depressed" because of the free-to-them school, housing and amenities are not culturally perfect or otherwise deficient.
The Karnes facility in Texas was supposed to be the embodiment of cushy alien housing that would satisfy demands from open borders activists that holding centers be more like hotels than prisons. Karnes cost $30 million of taxpayer money and features include a salad bar, a library with Internet access, cable TV, an indoor gym with basketball courts, and soccer fields. The cost per person per day is $140 for the resort, er facility.
The place is so fancy that in 2012 a Congressional hearing was held called "Holiday on ICE."
When Congressman Lamar Smith spoke in the hearing, he noted that the guidelines were designed without input from ICE officers or citizens concerned with the cost of extreme upgrades to holding facilities. Smith further remarked, "While funds for American students physical education classes are being cut, the new detention standards expand recreation for illegal immigrants. . . [with] options such as soccer, volleyball and basketball. It would be nice if all American students got those options."
Below, the Karnes center offers racks of free clothes for illegal aliens.
The Karnes Library includes books and the internet in a comfy setting.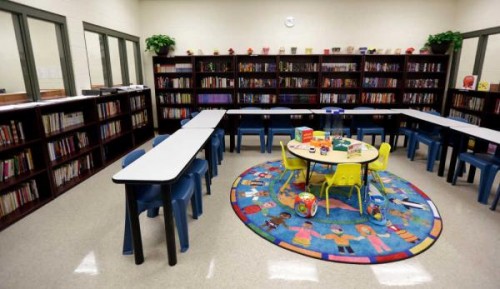 Fox New's Greta van Susteren was shocked at the cost and luxury:
Still, it's all not good enough for the discriminating tastes of today's illegal alien grifters.
Immigrant mother: Time at detention center depresses kids, Associated Press, April 14, 2015

SAN ANTONIO (AP) — Immigrant children at a federal detention facility in Texas are acting depressed after months of regimentation and confinement, said a Honduran mother who was recently released with her 2-year-old son.

Kenia Galeano, 26, said at a small protest Tuesday in front of a downtown cathedral that the children are suffering after long periods of being held at the 500-bed facility in Karnes City.

U.S. Customs and Immigration Enforcement authorities, however, have said in the past that the facility provides a number of play and schooling areas where children and residents can move about freely. ICE officials said they would look into questions from The Associated Press about the emotional state of the children at Karnes, but could not provide a response Tuesday.

Tens of thousands of Central American migrants crossed the U.S.-Mexico border last summer, most of them mothers with children and unaccompanied minors.

Galeano, who entered the country illegally last November and was detained for more than five months, said the children are unaccustomed to being restricted to the facility and have trouble with the more rigid eating and schooling schedules. She said the food, such as reheated vegetables and chicken mixed with pineapple and oranges, is also foreign to them. Continue reading this article