How much is it worth to unfriendly Muslims to delude Americans into thinking Islam is a religion of peace and does not pose a threat to our nation?
Three million dollars worth, at least. That's the price tag on a campaign by the Islamic Circle of North America to convince Americans that barbaric misogynist sharia law is a fine addition to our nation's diversity.
The Muslims have gotten their turbans out of joint because of numerous state efforts to pass no-sharia laws. In 2010, 70 percent of Oklahoma voters approved a no-sharia initiative. Just today (Friday), AP had a story about similar legislation: Florida mulls outlawing Shariah, other foreign law.
Most Americans find our Constitution to be quite adequate for the nation's legal framework. We do not need any foreign law. Muslims residing in this country who prefer Mohammed's dictates should relocate to locales where it is practiced, which are welcoming to fellow ummah members: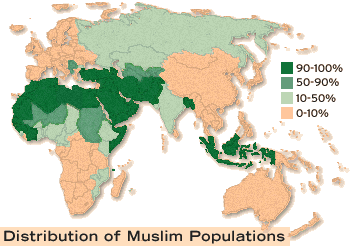 Yet a 2010 investigation by scholar Daniel Pipes found 17 instances of sharia law being used in 11 states by US judges. So the fear of encroachment is not misplaced, as the recent Zombie Mohammed case illustrates, where a judge freed a Muslim who appeared to assault an American dressed up to insult Islam's prophet. The upshot is the judge ruled that Muslims may physically attack anyone who insults Islam, despite the First Amendment.
Sharia law recommends death for apostates (like the Iranian pastor who renounced Islam), the subjugation of non-Muslims, and unending war against infidels. Sharia also decrees a lesser status for women, and if they do not submit then their families may kill them, no problema.
Never forget how all this objectionable diversity got here: immigration.
CNN's blog report unsurprisingly portrayed Muslims as the victims and Constitution-preferring Americans as meanie Islamophobes. Incidentally, the best way to "repair Sharia's reputation" would be for Muslims to stop murdering non-Muslims on a daily basis in the name of Islam.
Muslim campaign looks to repair Sharia's reputation, CNN, March 2, 2012

Washington (CNN) – A major American Muslim group is embarking on a national campaign Friday to clarify a word it says has been given a bad name by recent global and domestic politics: Sharia.

The Islamic Circle of North America says its effort is aimed at "educating Americans" on what it says is the noble meaning of Sharia through conferences, billboards, and TV and radio PSAs.

The group is also launching a national hot line to answer questions about Sharia and Islam.

For more than a billion Muslims around the world, Sharia describes a way of life, from dietary laws to a code of moral life. For some conservative American critics, the word is sinister – connoting a draconian legal code that they contend threatens to subvert American law.

Sharia was politicized in the post-9/11 world as the U.S. paid more attention to perceived threats from the Muslim world, said Zahid Bukhari, president of Islamic Circle of North America.

More recently, Bukhari says Republican presidential candidates have used the word to foment Islamophobia.

"We should have a federal law that says Sharia law cannot be recognized by any court in the United States," Newt Gingrich said to a standing ovation at the Values Voter Summit in Washington in 2010? "No judge will remain in office that tried to use Sharia law." Continue reading this article