Over at the squirrelly Fox News Latino, Arizona Senator John McCain was interviewed recently to advise Republicans that the party should cozy up to hispanics on the issue of illegal immigration, and "treat it in a humane fashion" (aka enact mass amnesty) as the raza-tarians keep demanding.
Interestingly, McCain is the Presidential candidate who in 2008 received only 31 percent of the hispanic vote, even after promising on Spanish-speaking Univision that he would work for mass amnesty starting the "first day" of his presidency. So McCain strategizing has not had a strong history of achievement.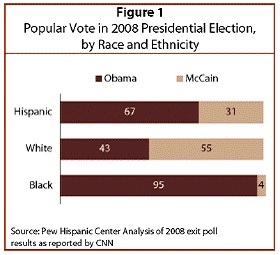 By way of comparison, the similarly Mexichurian Republican President George W. Bush could at least squeak out 40 percent of latino votes in one of his elections:
Bush Is Losing Hispanics' Support, Polls Show, Washington Post, May 21, 2006

[. . .] The poll findings indicate that Republicans are likely to have a hard time replicating Bush's 2004 performance among Latino voters. According to 2004 exit polls, Bush received the backing of 40 percent of Hispanic voters, up from 34 percent in 2000. Other studies have put the 2004 figure somewhat lower, although there is general agreement that Bush made statistically significant gains from 2000 to 2004.
As usual, McCain doesn't object to illegal immigration and is still fine with rewarding the lawbreaking with work permits, which is all the foreign intruders care about — more access to jobs and therefore money.
When Juan Williams accused Arizona of being "now known as the anti-immigrant state" the Senator didn't disagree or characterize his state's residents as the defenders of national sovereignty.
McCain avoided the term amnesty (except in one historical reference) and framed his imagined giveaway in kindly language: e.g. "an issue of being humane, of being understanding, of having compassion."
Nobody ever reminds these characters that only in the immigration sphere is lawbreaking rewarded by the federal government, an action which turns our image of a "nation of laws" into a bad joke.
You can watch the cringe-inducing 16-minute interview or read the transcript below:
John McCain: Issue of Immigration Stands between Latinos and GOP, Fox News Latino, May 17, 2012

JUAN WILLIAMS: Senator John McCain thanks for coming in for this Fox News Latino exclusive.

SEN. JOHN McCAIN (R-AZ):Thank you.

WILLIAMS: Senator, why do you keep saying that the Hispanic vote is up for grabs, when polls consistently show that President Obama has close to seventy percent support in the Latino community?

McCAIN: And he had very strong, strong support in 2008 as well.  Because I think that there are many values, and things that we share, we Republicans: lower taxes, pro military, small business, you know how Hispanic or Latinos are small business people, Pro-life. There are many areas there that they would, in my view, would be naturally attracted to the Republican banner.  And they in fact… George Bush, Bush II did well in his elections, with Hispanic voters.  And, we all know what the answer is, and what the problem is.  It's the issue of immigration.  And we have to treat it in a humane fashion, and we have to understand that with any new wave of immigrants that comes to our country, whether it be Irish, or Italian, Poles, whoever it is, Hispanics in America, or Latinos, have an allegiance to the people who are coming and that are still in the country they came from.

WILLIAMS: Well, let's look at the likely GOP nominee stance.  Mitt Romney, on immigration reform, opposes the Dream Act, opposes Pathways to Citizenship.  In fact, he's calling for self-deportation.  He opposes guest worker programs, opposes tuition breaks for undocumented kids who are in the United States.  Why would Hispanics vote for that candidate?

McCAIN:  Well, first of all, as you described Mitt Romney is not the case in all due respect.  He is solidly in favor of immigration reform.  He knows that there are twelve million people who are in this country illegally.  He knows you have to address it.  He has also stated, recently, and I'm happy to say, that we have to address it in a humane fashion.  The issue of self-deportation, there are some Hispanics who have come back, but he doesn't—gone back to the country that they, mainly 'cause the economic conditions here.  So he, he doesn't—but he doesn't think that's the, the entire answer to the issue.  As you know Marco Rubio and some others are working on a version of the Dream Act.  And by the way also he does not oppose guest worker programs either, either for high tech, or for agricultural workers.

Look, Mitt Romney understands that we have a challenge with the Hispanic voter.  I believe, as this campaign moves on, that you will see him addressing this issue of the need for immigration reform.  We all know what we need to happen.  Let me just, I have one more small point, I'm sorry for the long answer, but you are touching on one of the key issues of the 2012 Presidential campaign.  We still do have a huge problem with drugs coming across our border.  There are a hundred guides sitting on mountaintops right now in Arizona, guiding the drug cartels as they bring the drugs across the Arizona/Mexico border, up to Phoenix, where they are distributed throughout the nation.  And the price of cocaine, by the way, on the street, has not gone up one penny, despite all of our drug efforts.  That's the best indicator as to how we're doing on the, quote, war on drugs.  So there's a bigger problem than just illegal immigrants coming across our border.  There are still drugs, and we're creating a demand, and that's, you know, a big part of the issue.  And that, that can't go on, Juan.  It can't. Continue reading this article