LimitsToGrowth Archive
October 2008


Police halt wedding of boy, seven, to girl aged five [10/31/08]
For a diversity moment, consider this: in Pakistan, children are used as bargaining chips to settle family business in a way that constitutes slavery.
Police have halted a wedding between a seven-year-old boy and a five-year-old girl in Pakistan, arresting the Muslim cleric officiating at the ceremony and the children's parents.
A police raid prevented the cleric from going ahead with the ceremony in Karachi, which was attended by 100 guests, said the deputy superintendent of police, Malik Mazhar.
Pakistani law forbids marriage below the age of 18, but some Muslim scholars deem it permissible if the bride and groom have reached puberty.TV footage showed both children in traditional wedding clothes in the laps of policemen after the raid. The girl, called Nisha, had tears running down her cheeks.
According to a report on Express News TV, the parents said the wedding had been arranged to end an eight-year feud between the two families.
Mazhar said he had heard about similar cases in rural areas but "it is shocking to have this right in the centre of the city".
Below, Mohammad Ismil holds his 7-year-old son Mohammad Waseem and the boy's 5-year-old bride Nisha at a police station in Karachi after Pakistani police raided the children's wedding ceremony.
The 2000 Census numbers Pakistan-born persons residing in the United States at 223,475.
• • •
BART reopens 3 stations where protesters jumped fare gates [10/31/08]
This morning, young anarchists jumped BART fare gates en masse in a co-ordinated ripoff on their way to a protest of US immigration policies in San Francisco. Why stop at just breaking a couple laws; foreigners believe they are victims and therefore entitled to all the benefits they steal.
OAKLAND -- BART has closed the Fruitvale station in Oakland for the second time this morning because of a rash of youths jumping fare gates on their way to a protest in San Francisco against federal immigration policies, authorities said.
Earlier, BART closed the Fruitvale, Coliseum and Richmond stations as hundreds of youths evaded fares starting around 9:15 p.m., BART spokesman Linton Johnson said. All three stations were reopened by 10:30 a.m., but shortly before 11 a.m., the Fruitvale station was closed again.
Trains are passing through the station without stopping.
In addition to the station closures, BART trains bound for San Francisco have been delayed at the West Oakland station by protesters holding doors open and demanding that Fruitvale be reopened, passengers and BART officials said.
The immigration anarchists cleverly chose Halloween for their squawking so they could wear masks without suspicion. The poster ominously warns "Make this a Halloween day to remember."
Below, (mostly) kiddies who should be in school, protesting American sovereignty ("immigration is a human right" according to one sign). BART may close stations if the anarchist brats try to avoid paying for rides again.
• • •
Charges filed in death of police officer [10/30/08]

A young Phoenix police officer was killed a few days ago by a previously arrested illegal alien who had been sent home on several occasions under voluntary deportation (under which the illegal accrues no serious penalties if he returns), but had returned every time. Shane Figueroa was only 25 and had a wife and three-month old girl.
A suspected illegal immigrant accused of causing the death of Phoenix Police Officer Shane Figueroa in a traffic crash has been charged with second-degree murder, aggravated assault and forgery.
Maricopa County Attorney Andrew Thomas announced the charges against Salvador Vivas-Diaz on Tuesday.
Court documents said Vivas-Diaz showed major signs of impairment after his pickup truck slammed into Figueroa's patrol car in southwest Phoenix early last Saturday.
He allegedly gave officers a fake name and was carrying forged documents.Vivas-Diaz has had several brushes with the law for DUI and other violations.
He was arrested by the Tempe Police Department in May 2004. Since 1998, he has voluntarily returned to Mexico three times. He was deported on June 29, 2004 following an arrest by DPS in Pinal County.
There were warrants for his arrest in both Tempe and Pinal County for previous run-ins with police.
• • •
Citizenship often determines who gets medical care [10/29/08]
With California very deep in a financial hole this year (Governor warns of possible $10 billion deficit), wasting the taxpayers' money on services for illegal aliens must stop. It would be easy enough to pull the plug on in-state tuition for illegal alien students taking slots from citizens in universities -- it costs an estimated $117 million per year.
But a real budget buster is the medical bill for illegal alien medical moochers -- some of whom come here for the free care they can't obtain at home. California taxpayers get it in the neck.
Roughly 2,000 times over the last 17 years, Marguerita Toribio, an illegal immigrant from Mexico, has climbed into a cushioned recliner for the three-hour dialysis treatment that keeps her alive.
She has never seen a bill.
U.S. taxpayers have covered the entire cost of her treatment in California: more than $500,000 and rising, not including a kidney transplant in 1993.
The kidney failed when Toribio briefly moved to North Carolina, which refused to pay for her anti-rejection drugs. She needed to go back on dialysis three days a week to clear toxins from her blood, but North Carolina didn't cover that either.
The best a social worker could offer was a prepaid plane ticket back to California. [...]
The number of patients is not large. In California, illegal immigrants account for about 1,350 of the 61,000 people on dialysis. Their treatment cost taxpayers $51 million last year.
But dialysis stands out because it is often a lifetime commitment. The investment in a single patient over time can easily top $1 million.
The story goes on to explain medical elites' reasoning for continuing dialysis -- that regular treatment is less expansive than emergency room care for failing kidneys. As if that were the only option.
Instead of screwing citizens with higher taxes and healthcare costs, California should be sending these foreign medical parasites along to ICE for immediate repatriation.

• • •

Women Are the Losers When We Concede to the Muslim Hardliners [10/28/08]

This piece from columnist Leo McKinstry is remarkable for its honesty about the rapid collapse of the British government to Muslim demands for the institution of sharia law.
The cowering of official Britain toward hostile Muslim immigrants is very disappointing. There is so much tippy-toeing around the Sons of Allah for fear of upsetting their famous "sensitivity." Actually, "intimidation" would be a better description for their violent reaction to any alleged affront or denial that Islam should rule the planet.
McKinstry is quite correct to observe that women are thrown under the bus first by multiculturalists in love with Islam. Of course, feeding the Muslim crocodile in an act of cowardly appeasement is a losing proposition because the vile creature will consume all eventually with the west's obvious weakness of resolve. Muslims see Europe as unwilling to defend its values and therefore an easy takedown.
In response to the infamous expression of support for sharia made in February by the Archbishop of Canterbury, the Government promised that there were no plans to allow the code any legal jurisdiction in Britain, warning that such a step could lead to "social chaos". Throughout the summer, Ministers maintained this front of denial.
But now these words have been exposed as nothing more than empty political rhetoric designed to hide the sinister truth. As with mass immigration and European integration, the liberal political elite has decided to ignore the will of the British public. Sharia law has now become a terrifying reality in our midst, without any vote or sanction from the people.
The Government's approach could hardly be more damaging, either for our democracy or our social cohesion. A network of sharia courts across several of our major cities, including London and Birmingham, has already dealt with more than 100 cases since last summer. Among them have been six cases of domestic violence, which should be a serious criminal matter reserved for the police and proper courts.
In line with the anti-female bias of sharia, none of the men in these six incidents received any punishment but were instead sent for "anger management" training or "mentoring" by "community elders". [...]
According to a recent report from the Association of Chief Police Officers, no fewer than 17,000 women are subjected to Islamic honour-related violence in Britain every year, including assault, kidnappings, beatings and even murder.
It is outrageous that instead of tackling this outrage, the  Government wants to encourage it by promoting sharia courts where women are put under savage pressure by husbands, families and the male-dominated community elders. The legal system should provide protection to the vulnerable, not reinforce the power of the bullies.  
• • •
Somali woman executed by stoning [10/27/08]
Why Washington continues to welcome thousands of immigrants and refugees from such a backward and misogynist society is beyond me. For a time, businesses like meatpackers may have seen legal Somali refugees as a handy replacement for illegal aliens from Latin America. But recent crankiness on the subject of Islamic practices while at work in packing plants has proved troublesome to management.
Anyway, back to Somalis in their own country...
A woman in Somalia has been stoned to death after an Islamic Sharia law court found her guilty of adultery.
The woman was buried up to her neck and then pelted to death with stones in front of a large crowd in Kismayo.
It was the first such execution in the southern port city since Islamist insurgents captured it from government-allied forces in August.
A local Islamist leader said the woman, Aisho Ibrahim Dhuhulow, had pleaded guilty to committing adultery.
"She was asked several times to review her confession but she stressed that she wanted Sharia law and the deserved punishment to apply," said Sheikh Hayakallah.
A group of men performed the execution in one of the city's main squares in front of thousands of people, AFP news agency said.
In other Somalia news... Muslims behead Christian convert from Islam in Somalia. As Robert Spencer notes in the intro to this article, the Koran specifies that anyone who converts out of Islam must be killed.
NAIROBI, Kenya, October 27 (Compass Direct News) – Among at least 24 aid workers killed in Somalia this year was one who was beheaded last month specifically for converting from Islam to Christianity, among other charges, according to an eyewitness.
Muslim extremists from the al Shabab group fighting the transitional government on Sept. 23 sliced the head off of Mansuur Mohammed, 25, a World Food Program (WFP) worker, before horrified onlookers of Manyafulka village, 10 kilometers (six miles) from Baidoa.
• • •
Cartel reportedly infiltrated Mexican attorney general's office [10/27/08]
Here's another Mexico-tailspin-into-the-toilet story. Just when you think the failing state can't get any worse, it does. For example, in one 24-hour period last week: 21 die in Mexico violence, 4 in crowded park.
That story goes into the category of accumulating deaths due to drug violence. But the news that cartel spies had infiltrated the highest levels of Mexico's judiciary is far more ominous, particularly when America is about to send hundreds of millions of dollars to Mexico City to help with its internal policing, aka the http://www.vdare.com/walker/071115_marshall_plan.htmMerida Initiative.
MEXICO CITY, Mexico (AP) -- Mexican prosecutors say employees of the federal attorney general's office worked for a drug cartel, passing sensitive information to traffickers in the worst known case of drug infiltration of law enforcement in a decade.
The Mexico City newspaper El Universal reported on Monday that one cartel informant said he had infiltrated the U.S. Embassy.
It said the informant told Mexican prosecutors he had worked as a "criminal investigator" at the embassy and that he had passed along information on U.S. Drug Enforcement Administration operations in Mexico.
The embassy had no immediate comment.
The man reportedly worked for the Beltran Leyva cartel, the same organization that allegedly employed at least five agents of Mexico's Attorney General's Office for Organized Crime.
And on the subject of rampant corruption, today brings this item: Mexican officials held for selling intel to drug cartels
MEXICO CITY (AFP) — Mexican authorities have been holding 35 officials since July for selling intelligence to drug cartels, for payments of up to 400,000 dollars, the federal prosecutor revealed on Monday.
"Thirty-five public officials have been pulled out of the SIEDO (elite anti-organized crime unit) as well as other support staff. The process of the cleaning up and revision of staff and proceedings will continue in a permanent manner," Eduardo Medina Mora told a news conference.
Okay, one more; this one about the drug war moving across the border: FBI warns of drug cartel arming
The FBI is warning that one of Mexico´s most brutal drug cartels is attempting to violently regain control of drug trafficking routes in the United States and has been ordered to engage law enforcement officers to protect their operations, according to an intelligence report obtained by The Washington Times.
Los Zetas, the enforcer of Mexico's infamous Gulf Cartel, is reinforcing its ranks and stockpiling weapons in safe houses in the U.S. in response to recent crackdowns in the U.S. and Mexico against drug traffickers, said the FBI San Antonio Field Office's Joint Assessment Bulletin. The bulletin was dated Oct. 17 and was sent to law enforcement officials in the Texas region.
The bulletin said the cartel's regional leader, Jaime Gonzalez, has ordered the reinforcements to a tactical operational territory, or "plaza," in the area around the southern Texas towns of McAllen and Mission, about 235 miles south of San Antonio and less than five miles from the border with Mexico.
The worst of the narcos are coming this way. It was only a matter of time (and the convenient open border).

• • •

Gun Sales Thriving In Uncertain Times [10/27/08]
Here's an interesting quote from an article about gun sales in Virginia.
Bob Leyshion, who visited a gun shop in Manassas recently, said the economic crisis and Obama's lead in the polls were on his mind.
"People are preparing for catastrophe right now," said Leyshion, 55, of Nokesville. "It's insurance. With the stock market crash and people out of work, and the illegal aliens in this area, the probability of civil disorder is very high."
• • •
Judicial Watch/Zogby Poll: Majority of Likely Voters - Including Hispanics - Want More Enforcement to Fight Illegal Immigration [10/27/08]
This survey from the reputable Zogby polling company shows the long-time desire of the American people across that political divide that immigration be a legal procedure brought under control.
• 71.5% said they agree local law enforcement officers should enforce federal immigration laws, including 51.5% of Hispanics and 56.2% of self-described "liberals."
• 71.5% said they disagree public officials should use taxpayer funds to operate day laborer sites that help illegal immigrants, including 56.2% of Hispanics and 53.2% of self described "liberals."
• 57.1% said more law enforcement is needed to address the issue of illegal immigration while only 7.1% said they believe less law enforcement should be used. 34.7% of Hispanics support more law enforcement while 15.5% said less. Of self-described "liberals," 39% said they support more law enforcement, while 13.2 percent said less.
• 54.8% said they oppose "sanctuary policies" that help illegal aliens (39.3% "strongly" oppose) while 34.9% said they support such policies. 36.2% of Hispanics oppose "sanctuary policies."
• • •
Australia May Reduce Migrant Intake, Says Minister [10/26/08]
Sometimes Australia seems remarkably sensible regarding immigration. (Remember when Prime Minister John Howard declared a couple years ago that immigrants were still expected to assimilate to Australian values rather than cling to multicultural ideology.)
Anyway, Australia has sensibly declared that a global economic downturn may cause the government to decrease immigration, because the country will need fewer workers. Imagine that.
Australia's Immigration Minister Chris Evans said Sunday that his country might reduce the inflow of migrants if the global financial crisis raises unemployment levels in the country.
In a televised interview on Sunday, the minister said that a decision on the issue would be taken after the release of the country's mid-year financial data next month.
"Clearly if the demand for labor comes off you'd adjust the migration program accordingly," he said. "We can turn the taps off if we need to.
• • •
Cops ask for better weapons, more help [10/26/08]

Rosarito Beach, mentioned below, is just 20 miles south of the US border on the highway from Tijuana. The place advertises itself as a vacation destination, but the latest violence against civilians cannot alleviate the fear that many Americans have about visiting Mexico now.
A day after eight people were shot to death in Rosarito Beach, dozens of municipal police officers yesterday demanded better weapons and reinforcements from other agencies, saying they felt powerless against criminal groups operating in their city of 120,000 residents.
In Tijuana, the violence continued as gunmen ambushed a man, woman and child inside a vehicle on a busy highway shortly after 2 p.m. The man and woman died, and the 18-month-old girl was severely injured, the Baja California Attorney General's Office said. A 20-month-old boy was killed in a traffic accident Wednesday when his panicked father crashed after being caught in a shootout.
In Rosarito Beach, a convoy of Mexican marines and a group of heavily armed federal police could be seen driving through downtown yesterday afternoon. Mayor Hugo Torres said he had been promised help from the military and state police to help gain control over crime in the city.
• • •
Migrant row minister hit by pie [10/25/08]
The concept of environmental limits is not popular among leftist open-borders types. Mention that there may well be limits to growth and you might get a pie in the face, as happened to British immigration minister Phil Woolas.
Immigration minister Phil Woolas has become the victim of a pie-throwing protester, angry at his call to limit UK immigration.
A member of the No Borders group threw a cream pie into the minister's face while he was speaking at a debate at Manchester University.
A spokeswoman for the group said Mr Woolas had been "spouting right-wing anti-immigration policies".
A Home Office spokeswoman said the minister declined to comment.
The No Borders group, which campaigns against immigration controls, were angered by Mr Woolas' recent remarks, in which he said the government would not allow the UK's population to rise as high as 70 million.
• • •
How Estonians sang their way to freedom [10/25/08]
A new documentary, A Singing Revolution, has been released which tells the story of how Estonians stood strong against the Soviet bear through cultural and political unity, expressed through singing. (See also a Youtube interview with the film's director for historical details.)
This tale of how peaceful crowds managed to fend off Soviet tanks as they attempted to take over the local television station is operatic in its drama, says the married couple. "This is the story of the power of nonviolent resistance to succeed where guns and rock-throwing would have resulted in death and more political oppression," says Jim Tusty. The nation was trying to throw off the Soviet yoke, which ensnared it in 1939, when Hitler and Stalin secretly signed a pact to divide up the Baltic countries. But, says Jim Tusty, it is also the story of a relationship between art and politics. [...]
The music is a mix of modern and traditional folk songs, many of which have what the team calls the kind of oral traditions that are full of hidden, deeply patriotic meaning that sustained Estonians through centuries of oppression. As they investigated the festival itself, they discovered the role that the traditional songs played during the critical years leading up to the fall of the Soviet Union, 1987 through 1991. Rather than engage the Soviets directly, as Hungary, Latvia, and Lithuania did, all with disastrous results, the various political groups united in song.
The trailer below is awesome with its stunning choral music. The final line of the voiceover is "This is the story of how culture saved a nation."

Indeed, a united culture is very powerful, a basic knowledge about human nature that has been eroded by the daily multiculturalist propaganda from the liberal press. Hopefully a future immigration historian will not write "This is the story of how the false ideology of multiculturalism destroyed the American nation."

• • •

As US economy sours, some migrants return south [10/25/08]
More sob story "journalism" from the AP about fleeing foreigners, but its point that the number leaving is in fact small compared with the total of 20-30 million residing here is certainly true.
With an estimated 12 million illegal immigrants in the U.S., the number returning home is relatively small.
The vast majority of Mexican immigrants who have lived in the U.S. a few years will stay put because the job prospects are far worse back home and they have family in this country, said Wayne Cornelius, director of the University of California, San Diego's Center for Comparative Immigration Studies.
"They would be condemning themselves to a lower standard of living," Cornelius said.
Karina Corona, who came to the U.S. on a fake passport in 1995, is struggling to make ends meet but said she won't go home to Culiacan, Mexico, because there is no work there and her hometown is a hotbed of drug violence.
The single mother had to quit a second job as a seamstress to care for her children, leaving her to live on about $1,500 a month as a delicatessen cashier. She stopped taking graphic design classes at a San Diego community college and fell behind on rent.
But Mexico "would be even worse than here," said Corona, 34. "We're going to stick it out."
Every employer should be required to use E-verify, so that people like Karina will have to go back to where she belongs. (Actually, her home town of Culiacan is all cleaned up, with drug dealers gone.)

• • •

Out for Blood vs. Cops [10/24/08]
A previously deported illegal alien shot two police officers in Queens when they tried to stop him from using a student fare card for the subway.
The Dominican adult said he shot the cops becasue he feared being deported -- yet another danger added to the already hazardous job of being a police officer.
The illegal immigrant who shot two cops at pointblank range later admitted he wished he had pumped out more bullets at them.
"I knew they were cops," Raul Nuñez told a detective in the Bellevue Hospital emergency room 90 minutes after the shooting.
"They were trying to arrest me. I saw the [officer's] gun, and I grabbed it and went wild. I should have kept shooting, but the other cop shot me and broke my leg."
That statement was one of several Nunez made to detectives in the minutes and hours after shooting officers Jason Maass, 28, and Shane Farina, 38, in the Queensbridge subway in Long Island City Tuesday, authorities said. Nuñez's lawyer declined to comment.
Leading an undercover fare-beating initiative that evening, Lt. Gary Abrahall saw a light on the top of the turnstile go off, indicating the 32-year-old Nuñez had used a student MetroCard.
As Nunez descended an escalator, Abrahall radioed for Maass and Farina to stop him. When Nunez couldn't produce identification, the cops began arresting him.
"They put a handcuff on my left wrist," Nunez told a detective. "I started yelling, and tried to stop them from handcuffing me. We fell down, and I saw a silver gun on the ground.
"I picked up the gun and shot the officer from about two feet away. I know I hit him. After, I ran. I went through the gate, and another officer shot me. I shot at him once, I think."
Interestingly, fellows jumping fare gates include a number of more serious criminals: of the 7,000/month whom police catch trying to avoid fares, about 400 have arrest warrants.

• • •

South Asians seek US political power [10/24/08]
This item is typical multiculti puff from the BBC about Indians (dot not feather) running for office in America. However their motivation is not entirely clear.
"Those of us born and raised here realise what's at stake for our community, our culture and preserving our futures in this country," says Mr Reddy.
What does that mean? What's at stake for their community that requires political office? Not enough freebies? What does he have in mind? Maybe a nice expensive Indian museum to memorialize the smug, misogynous, caste-encumbered culture of the subcontinent?

• • •

Culiacan, Mexico, feels the pain of a drug-induced recession [10/24/08]
Times are tough in Culiacan on Mexico's west coast. Presidente Calderon's cartel crackdown has had some success in that community, with the result that the drug-connected legal economy has shrunk. Some Mexicans are unhappy with increased law and order causing a narco-recession. There's just no pleasing some people!
The hardest-hit enterprises in this recession are the purveyors of the typical narco's favorite toys and pursuits: Flight schools. Yacht and luxury-car dealerships. Dollar-changers. Love-in-the-afternoon motels. Even the Jesus Malverde temple.
A mustachioed Robin Hood figure in Mexican folklore, Malverde is considered the patron saint of the thousands of people who dedicate themselves to smuggling and merchandising cocaine, marijuana and methamphetamine.
In boom times, admirers and believers swarm the shrine erected here in Malverde's honor. They paper the building's walls with photographs of themselves (sometimes with their guns, multiple cellphones and snakeskin cowboy boots showing) in an effort to seek his blessing. They hang plaques praying the saint will protect them on their "journey" from Culiacan to San Diego or Chicago -- their smuggling routes.
The temple was deserted during a recent visit save for Dona Tere, a caretaker, and a couple of forlorn souvenir salesmen who hawk candles, Malverde key chains and painted busts in all sizes of the not quite Vatican-approved saint.
Oh no! Not Jesus Malverde, the beloved crime icon of drug smugglers and beyond -- how cruel!
True to Mexico's fondness for crime, some residents wish law enforcement would scram and let Culiacan return to a narco-boom economy:
"We can't stand the guachos," said a fat man with a fatter gold watch, using a slang term for the soldiers. His eyes darted back and forth on Benito Juarez Street in search of a potential customer: a car that might slow, its passengers with dollars to sell. There were none.
"At least the narcos gave us work," he said.
Nice people -- just the kind of law-respecting immigrants we want in the United States!

• • •

Gang indictment accuses 29 of racketeering or violent crimes [10/23/08]
It is good to see a serious crackdown in San Francisco against against the worst, most violent foreign criminals. Unsurprisingly, it was the feds who had to step in and do the job of law enforcement.
Federal authorities in San Francisco unveiled an indictment today against 29 people allegedly tied to a street gang, accusing the group of engaging in murder, drug trafficking, witness tampering, car theft and extortion.
Those indicted include alleged senior leaders in the San Francisco faction of the Mara Salvatrucha or MS-13 gang, which originated in Los Angeles, has ties to El Salvador and is renowned for its savage tactics, federal prosecutors said.
Most recently, authorities say, members of San Francisco's 20th Street clique of the gang have been tied to at least five slayings in the city, including the June 22 killings in the Excelsior district of Tony Bologna, 48, and his sons Michael, 20, and Matthew, 16. Police say the killer was trying to avenge a gang shooting from earlier in the day and mistook the Bolognas for rivals. [...]
U.S. Attorney Joseph Russoniello, who alternatively referred to the suspects as "this group of hoodlums" and "this group of thugs," hailed the arrests as a "major takedown" of gang members during a press conference where he was joined by San Francisco District Attorney Kamala Harris and Police Chief Heather Fong.
Twenty-two of those indicted face federal racketeering charges, which carry a maximum sentence of life in prison without parole. The other seven are accused of committing 17 separate violent crimes, including one count involving murder, to assist racketeering.
Prosecutors will seek "maximum possible penalties so we don't have to play cat and mouse in the future," Russoniello said.
All told, 31 people with suspected ties to the gang have been charged in this recent sweep. Two others were charged separately from the 29 indicted. Of the total, 15 were already in custody on charges in separate cases, while three remain at large, federal authorities said.
Those arrested include U.S. citizens, legal residents and illegal immigrants, Russoniello said.
This KTVU video segment reported that half of those arrested were illegal aliens. The arrests were a culmination of a three-year undercover investigation.

• • •

US promises Mexico generous drug war funds [10/23/08]
Has someone told the State Department that Washington has spent a trillion dollars we don't have in the last month? Apparently not -- or perhaps different rules apply when Mexico is concerned.
The foreign aid has been slowed in the pipeline because of various reasons, including a fear by some in Congress that the money will merely be stolen in Mexico's famously corrupt society.
US Secretary of State Condoleeza Rice says the United States will be generous with funds for the war on drugs being waged by the Mexican government. She made the announcement before a meeting with her Mexican counterpart Patricia Espinosa.
In June, the US Congress promised 465 million dollars for the war on drugs in Mexico. The so-called Merida Initiative is intended to help the Mexican government purchase various items of drug-detection equipment. These include scanners, helicopters and surveillance aircraft. Mexican President Felipe Calderón is asking Washington to make the funds available as soon as possible.
However, political analysts say Washington is still hesitating about releasing the money and that, before it does, it wants guarantees that the equipment will not fall into the hands of drugs gangs or corrupt police agents.
Why, in the midst of a financial crisis, are we sending $1.4 billion of the taxpayer's money over a couple years to wealthy Mexico? (See my 2007 article A "Marshall Plan For Mexico" -- Sending Welfare To A Crack House.)
Mexico is quite a wealthy nation -- ranking consistently among the top 15 nations in GDP -- and can easily purchase any military equipment it needs to fight its internal drug war. Friend-of-Mexico George Bush screwed the pooch when he yielded to Calderon's poormouth begging for a handout.
Incidentally, Washington continues to waste money in the most outlandish fashion, e.g. $700 million given to the corrupt Palestinian semi-state this year.
My opinion: foreign aid should end until we get our national credit card (now nearly $10.5 trillion) paid off.

• • •

Latinos Account for Half of U.S. Population Growth Since 2000 [10/23/08]
Not only are Hispanics the major immigration group (48.3 percent according to the Census 2007 survey), they have double the fertility of Americans. Even if Washington ended all immigration tomorrow, the proportion of Hispanics would continue to increase into the distant future.
The actual Pew Hispanic Foundation report which is the basis of this blurb is titled Latino Settlement in the New Century -- very colonist-sounding, IMHO.
An earlier Pew report (U.S. Population Projections: 2005-2050) noted that by 2050, 19 percent of residents will be foreign born (compared with 12 percent in 2005) and white Americans will be a minority (47 percent).
Since 2000 Hispanics have accounted for more than half (50.5%) of the overall population growth in the United States -- a significant new demographic milestone for the nation's largest minority group. During the 1990s, the Hispanic population also expanded rapidly, but in that decade its growth accounted for less than 40% of the nation's total population increase. In a reversal of past trends, Latino population growth in the new century has been more a product of the natural increase (births minus deaths) of the existing population than it has been of new international migration. As of mid-2007, Hispanics accounted for 15.1% of the total U.S. population.
Since 2000 many Latinos have settled in counties that once had few Latinos, continuing a pattern that began in the previous decade. But there are subtle differences in Hispanic settlement patterns in the current decade compared with those of the 1990s. The dispersion of Latinos in the new century has tilted more to counties in the West and the Northeast. Despite the new tilt, however, the South accounted for a greater share of overall Latino population growth than any other region in the new century. There is also an ever-growing concentration of Hispanic population growth in metropolitan areas. These findings emerge from the Pew Hispanic Center's analysis of the Census Bureau's 2007 county population estimates, supplemented by 1990 and 2000 county population counts from the Decennial Censuses.
Below, a graph from the Pew report, showing the increase of Hispanics by county over just 27 years.
• • •
Alleged members of violent gang arrested in Bay Area raids [10/22/08]
How refreshing to see attention paid to public safety in San Francisco. Sadly, it is an action taken too late for the Bologna family, three members of whom were murdered by a previously arrested MS-13 gangster, but innocent lives may have been saved by today's arrests.
Federal immigration authorities raided more than a dozen locations in San Francisco, Richmond and South San Francisco today, arresting several alleged members of the notorious MS-13 street gang, authorities said.
Authorities said the investigation targeted a San Francisco-based faction of the violent group, also known as Mara Salvatrucha, which started in Southern California with roots in El Salvador.
"This is a major take-down," said Northern California U.S. Attorney Joe Russoniello, adding that the investigation dealt with alleged drug trafficking, gun running, terrorism and extortion activities of the group. He declined to provide further details about the raids.
Immigration and Customs Enforcement spokeswoman Virginia Kice said that "targeting the criminal activity and violence perpetrated by street gangs is one of ICE's top priorities."
Most recently, authorities say, members of the San Francisco's 20th Street clique of the gang have been tied to at least five slayings in San Francisco, including the June 22 shooting in the city's Excelsior district that led to the deaths of Tony Bologna and his sons Matthew and Michael. Police say the family was mistaken for gang rivals and targeted after a shooting earlier in the day.
In other San Francisco news... Judge reinstates suit against SF.
A state appeals court today reinstated a taxpayer lawsuit that accuses San Francisco officials of violating a state law that requires police who make drug arrests to notify federal authorities if a criminal suspect doesn't appear to be a U.S. citizen.
A Superior Court judge dismissed the suit last year, saying the California law on which it was based was an invalid attempt by the state to regulate immigration. The First District Court of Appeal disagreed Wednesday and said the law, though it might affect immigration, is based on the state's legal authority to combat drug trafficking.
The 3-0 ruling allows opponents of San Francisco's immigration policy to try to prove that the city has broken the state law. Passed in 1953, the law requires police to tell federal immigration officials whenever they arrest someone for any of 14 specified drug crimes and have reason to believe that the person "may not be a citizen of the United States." It applies not only to illegal immigrants but also to non-citizens who are legal residents and can be deported for committing serious crimes.
"This decision strikes at the heart of the sanctuary movement," said Tom Fitton, president of Judicial Watch, a conservative group that joined the lawsuit after it was dismissed. The court did not look into the city's reporting practices, which will be considered later in the case, but Fitton said he has "little doubt that San Francisco is in non-compliance with the law."
• • •
'Witch' Burnings Haunt Kenyan Tribe [10/22/08]
This is a story from NPR, so it is a curious blend of honest journalism (i.e. description) and a sort of tippy-toeing around very retro beliefs and practices, counter to the ideology of multiculturalism. The audio version of this story is more detailed and disturbing.
In much of Africa, people believe in some form of witchcraft. Just recently, soccer fans in the Democratic Republic of Congo accused a player of using black magic at a game. The ensuing riot killed more than a dozen people.
In Tanzania and Ghana, belief in the magical powers of albinos and hunchbacks has reportedly led to a rash of killings this year.
In May, 11 people died in a "witch" burning in southwestern Kenya, but questions linger over whether neighbors in that particular region of Kenya believed the people killed were witches.
The burning took place in a farming area in the lush southwestern reaches of the country, dominated by the Kisii tribe. News of the incident made headlines in Kenya, but there was little surprise among the general public.
That's because Kisiis are known to believe more fervently in the power of witchcraft than any other tribe in the land. And among the Kisiis, reprisals against witchcraft reportedly are getting more and more violent.
According to the Census Bureau, the population of persons born in Kenya who reside in the U.S. as of 2000 numbered 40,680.

• • •

FBI Removes 'Honor Killing' From Murder Suspect's 'Wanted' Poster [10/21/08]

Too bad the FBI caved to Muslims' pressure to delete unpleasant references of their misogynist culture in the obvious "honor killings" of high school girls Amina and Sarah Said.
The FBI removed all mention of the controversial term "honor killing" from the wanted poster of a double-murder suspect after FOXNews.com ran a story announcing the use of the term.
Yasser Abdel Said, wanted for the murder of his two daughters, has eluded authorities for almost a year. The bodies of the young women — Sarah Said, 17, and Amina Said, 18 — were discovered in the back of a taxicab in Irving, Texas, on New Year's Day.
According to family members, Said felt he was compelled to kill his daughters because they had disgraced the family by dating non-Muslims and acting too "Western."
The girls' great aunt, Gail Gartrell, has always called the case an "honor killing." And for a few days — until last Friday — the FBI publicly agreed.
"The 17- and 18-year-old girls were dating American boys, which was contrary to their father's rules of not dating non-Muslim boys," The FBI "wanted" poster read early last week. "Reportedly, the girls were murdered due to an 'Honor Killing.'"
Some Muslims have objected to the term "honor killing" because they say it attaches a religious motive to a crime, which could lead to discrimination against Muslims.
Right, we know how disagreeable Muslims can be when they are miffed about some "stereotype" unkind to their ultra-special selves.
Incidentally, the FBI has been subjecting its agents to "sensitivity training" about Islamic issues since 9/11, and the program appears to have paid off big time for the Muslims in this case.

• • •

Man throws wife, daughter out window in south St. Louis [10/21/08]
The Religion of Peace in the American heartland! In this case, a gentle Son of Allah ejected two female family members out the window and onto the pavement below.
St. Louis (KMOV) -- Police said late Saturday afternoon a 51-year-old man living with his family in a second floor apartment threw his wife and their 13-year-old daughter out the window.
The second floor apartment, located across the street from the Bevo Mill restaurant in south St. Louis, is nearly 17-feet above the sidewalk.  
The woman and her daughter are in stable condition. A witness said the mother seemed almost in shock and the daughter was bleeding profusely.  
The family is from Afghanistan and police said the father spoke little or no English. Other family members acted as interpreters.
Police said there are at least five children that live in the apartment. The 51-year-old man was arrested.
• • •
Muslim population is growing [10/20/08]
From Connecticut, here's a dopey puff piece about Muslims moving in. Naturally, the press thinks that more sons of Allah is a swell idea, bringing enriching new diversity.
Look down the street. They are here.
And they are among us, making contributions to the community the way immigrants always have -- by paying their dues -- often starting at the bottom and working their way up. They are bakers, barbers, waiters, soft-drink distributors, merchants, mechanics, teachers, engineers, lawyers and doctors. Many of them own small businesses, from mom-and-pop grocery stores to gas stations to restaurants.
They are Muslims. [...]
The Connecticut Muslim Coalition, the Pew Research Center and the Hartford Seminary estimate at least 100,000 Muslims live in Connecticut.
Elleithy, who is president of the Bridgeport Islamic Community Center, believes at least 4,000 Muslims live in Bridgeport and that number is growing 15 to 20 percent a year. That means in Bridgeport, with its population of 135,695, at least one in every 34 residents is Muslim.
Any Americans who think that the severe social dislocations caused by Muslim immigration to Europe won't happen here are living in a fantasy. It's just a matter of numbers when enough of them are ensconced -- 10 percent is one scholar's estimate -- then they start making demands that we infidels do things their way. Women's rights and safety get thrown under the bus early on.
Violence and terror come with the authoritarian belief system that calls for a worldwide Caliphate: it's just another bunch with a recipe for a perfect world -- their way. A poll last spring of Dutch showed that the majority believed that opening their nation to hostile outsiders was a seriously wrong move: Dutch: Mass Immigration Our Biggest Mistake Ever.
According to 56 percent of the Dutch, Islam is a threat to the Dutch identity. As well, 57 percent named admitting large groups of immigrants as "the biggest mistake in Dutch history".
Below, some Muslims in Britain show their gratitude for being allowed to immigrate and their appreciation for western civilization.
Meanwhile, even the Associated Press notes increased Islamic radicalism in its home: Ultraconservative Islam on rise in Mideast.
Salafist groups are gaining in numbers and influence across the Middle East. In Jordan, a Salafist was chosen as head of the old-guard opposition group, the Muslim Brotherhood. In Kuwait, Salafists were elected to parliament and are leading the resistance to any change they believe threatens traditional Islamic values.
The gains for Salafists are part of a trend of turning back to conservatism and religion after nationalism and democratic reform failed to fulfill promises to improve people's lives. Egypt has been at the forefront of change in both directions, toward liberalization in the 1950s and '60s and back to conservatism more recently.
The growth of Salafism is visible in dress. In many parts of Cairo women wear the "niqab," a veil which shows at most the eyes rather than the "hijab" scarf that merely covers the hair. The men grow their beards long and often shave off mustaches, a style said to imitate the Prophet Muhammad.
• • •
Cubans head for Mexico to dodge US sea patrols [10/20/08]
Is there anyone left on Cuba? They're still coming, particularly since Cubans get a better deal than anyone else on earth, due to the leftover Cold War policy of "wet foot, dry foot" where any Cuban who manages to arrive on US soil gets to stay. Cubans don't come for political freedom; they come for the money, just like everyone else.
Because it has become so hard to dodge the U.S. Coast Guard and reach Florida to qualify for U.S. residency, Cuban migrants in recent years have been heading for Mexico, then overland to Texas. Last year 11,126 used that route, compared to just 1,055 who landed in the Miami area, according to the Department of Homeland Security. [...]
It's called "wet-foot, dry-foot" - wet for those caught at sea, dry for those who reach land in Florida and thus qualify for U.S. entry. A third expression has entered the jargon - "dusty-foot," referring to Cubans who arrive in Texas, where Cubans need only present identity documents and undergo medical and background checks before being welcomed to America.
• • •
Anti-Muslim attack called bogus [10/19/08]
There's no shortage of hate-crime hoaxes pulled by dupes with extreme agendas. The Muslim fabricator in this case could do prison time, like convicted Professor Kerri Dunn who was sentenced to a year in the slammer for faking a hate attack
Some Muslims apparently want to be the victim at any cost.
A Muslim student who said a masked gunman assaulted her after he wrote anti-Islamic slurs in a women's restroom at Elmhurst College was arrested Friday after an investigation concluded the attack never happened.
A week after the case roiled the small college, Elmhurst Police Chief Steven Neubauer said Safia Jilani, 19, of Oak Brook had been booked on a felony charge of filing a false police report, which is punishable by 1 to 3 years in prison.
Jilani reported Oct. 9 that the man beat her with the gun in the college's science center, authorities said. Anti-Muslim graffiti was written on the wall, similar to a threat written on the same student's locker the previous week.
But there was no gunman, according to a joint statement from Elmhurst Police, the college and the DuPage County state's attorney's office.
According to the FBI, Jews experience five times as many hate crimes as Muslims, but the well funded CAIR grievance machine keeps on pumping out bogus stories of victimhood.
Anyway, if America is such a violent and hateful place, sensitive Muslims should stop immigrating here, right? But they keep coming.

• • •

Immigration debate intensifies as European economy falters [10/18/08]
In Europe, responsible voices note that the economic downturn should dictate reduced immigration: fewer jobs require fewer foreign workers, and citizens need the available employment.
Adopted Thursday by leaders of the 27-member European Union, the European Pact on Immigration and Asylum -- a document of political intent but not binding laws -- sets out principles for managing migration, fighting illegal immigration and forming partnerships with countries people leave or travel through to get to Europe.
It also seeks to make border controls more effective while building better asylum policy, with refugees increasingly obliged to apply for asylum status from outside the bloc.
Britain's new immigration minister has already promised to impose tougher restrictions as the country's unemployment rate looks set to soar to its highest level in nearly a decade.
"It's been too easy to get into this country in the past and it's going to get harder," Phil Woolas told The Times newspaper in an interview published Saturday. [...]
The minister said his government would not allow Britain's population to grow to 70 million people.
Can we get an American official to at least suggest a number at which the United States will be considered FULL? Four hundred million? Half a billion? Keep in mind that America's sustainable population has been estimated at 150 million, a number which the country reached and passed in 1950.

• • •

Hawaii tourism rejoices over S. Korea visa waiver [10/18/08]
Didn't GW Bush want his tough response to 9/11 terror attacks to be remembered as a positive part of his legacy? His recent decision to expand the visa waiver program will decrease national security -- but will please certain business interests, as noted in the curiously astute AP headline. (See also my 2007 blog item, Travel Agents of Destruction.)
HONOLULU (AP) — Hawaii tourism officials rejoiced upon hearing President Bush has decided to lift visa requirements for South Korean tourists.
Friday's decision means South Koreans — like Japanese, Brits and citizens of other prosperous U.S. allies — will no longer have to go through the hassle of obtaining visas before they travel to the U.S. for short-term visits.
"This is a good day," said Marsha Wienert, the state's tourism liaison, adding Gov. Linda Lingle was "ecstatic."
Latvia, Lithuania, Estonia, Hungary, the Czech Republic, Slovakia will also be added to the U.S. visa waiver program in about a month, President Bush announced at a ceremony in the Rose Garden on Friday.
Lou Dobbs had a more critical report (Oct. 17):
DOBBS: President Bush today rescinded visa requirements for the citizens of seven countries. Citizens from the Czech Republic, Estonia, Hungary, Latvia Lithuania and South Korea will now be able to travel to the United States without a visa. The Bush administration's continuation of the visa waiver program is in direct contradiction of the recommendations of the 9/11 Commission. That commission wanted tougher restrictions for countries in the visa program. Lisa Sylvester has our report.
LISA SYLVESTER, CNN CORRESPONDENT (voice-over): Citizens of seven eastern European countries in South Korea will soon not need a visa to enter the United States. Visitors from these countries can stay in the United States for up to 90 days. They join other U.S. allies, including most of Western Europe in the visa waiver program.
GEORGE W. BUSH, PRESIDENT OF THE UNITED STATES: These close friends of America told me that it was unfair that their people had to jump through bureaucratic hoops that other allies can walk around. I told them I agree with them.
SYLVESTER: President Bush said the travelers will only be allowed in if they have tamper proof biometric passports. Senator Dianne Feinstein is among those who is not a fan of the change. In a recent hearing, Feinstein criticized the visa waiver program calling it the soft underbelly of the nation's immigration system.
SEN. DIANNE FEINSTEIN (D), CALIFORNIA: I find it ironic that the Department of Homeland Security whose number one goal is to protect the nation from dangerous people is, instead, expediting the expansion of a program that we know is exploited by dangerous people.
SYLVESTER: Feinstein said the visa waiver program is being expanded even though several statutory conditions have not been met. By law, before new countries are admitted into the program, the Department of Homeland Security must be able to verify the departure of 97 percent of foreign travelers leaving U.S. airports.
A Government Accountability Office report said that condition has not been met. The United States does not know when and if millions of travelers actually leave the country. Jim Edwards says it's a gaping national security hole. [...]
DOBBS: Well, the embarrassment is pervasive, of course, throughout the administration -- absolute disregard for the safety and the well-being of the American people, violating again an implicit responsibility certainly to meet the recommendations of the 9/11 Commission. Lisa, thank you very much -- Lisa Sylvester from Washington.
Uh oh, if open-borders promoter Feinstein thinks the change in policy is dangerous, it must be a disaster with icing.

• • •

Slowly Building Diversity In Construction Labor Force [10/17/08]
This item is a an odd combination of history and denial in how it describes demographic changes on construction sites. The subtitle reads: Firms Are Starting to Hire More Black Workers in a Majority-Hispanic Field, as if Mexican scabs have been here forever, but both black and white workers were doing the building until the last decade. (See Media Prescription for a Carefree Future for one example of the human devastation wrought by open borders.)
Kyle Brown strode into the job-training class at Goodwill of Greater Washington and smiled at the black men and women he was about to hire as part of his construction company's effort to diversify its mostly Latino workforce.
In 1984, when Brown started at Miller & Long Concrete Construction, most workers were black. But by the mid-1990s, they had been replaced by Latinos. And Brown, 48, a tall man with dreadlocks, vividly recalls his initial loneliness as "the outsider." [...]
Yet to follow Brown is also to glimpse why black residents remain underrepresented in construction regionally and nationally even as nearly one out of every 10 black men in the District and nationally is unemployed -- about twice the rate for whites. Black high school graduates with solid work histories often assume construction is a dead-end job when they pass work sites filled with immigrants, Brown said. So his recruiting pool is largely made up of ex-offenders struggling to readjust to working life -- and many don't succeed. Even the company's longtime black workers often chafe at the isolation on construction sites where few people speak English, and tensions between them and their Latino bosses can run high.
• • •
S.F. to return $5.2 million in federal funds [10/17/08]
San Francisco's sleazeball city government has been called to account on accepting federal money it had no right to pursue as a sanctuary city.
San Francisco officials have agreed to pay back $5.2 million in federal grant money the city now admits it was not entitled to under a U.S. program to compensate local law enforcement for fighting border crime.
The U.S. Justice Department audited its Southwest Border Prosecution Initiative grant program last year and concluded that San Francisco - through a private consultant - had applied for money it was not entitled to claim for prosecuting cases for federal authorities and incarcerating defendants.
Rather than basing its claims on specific cases that federal officials referred for local prosecution, as required by the program guidelines, the city and its consultant determined that the city should be paid for 30 percent of all drug-related prosecutions.
Under that formula, San Francisco received reimbursement for 2,300 cases. The city agreed this week that it was entitled to money for only about 5 percent of that total.
The city got $3.7 million in fiscal 2006 alone under the program, more than any other local jurisdiction in the country.
• • •
Undocumented Asian Students Face Stigma [10/16/08]
Those illegal alien students sucking up taxpayer-subsidized state tuition in California aren't all Mexicans -- not by a long shot. Nearly half are Asian.
Picture an undocumented student, and the first image to pop up is unlikely to be an Asian one.
Yet a recent report by the University of California Office of the President revealed that 40 to 44 percent of undocumented students in the UC system are Asian. This is definitely not "a Mexican thing," which is how one undocumented student characterized the Asian community's dismissive views towards undocumented immigration.
"People will ask you: 'Are you AB 540? Because obviously you are not Latina,'" explains Tam, a 24-year-old of Vietnamese descent who recently graduated from UCLA (the last names of the undocumented students in this article have been withheld to protect their identities).
The tuition subsidy to foreigners costs California taxpayers an estimated $117 million per year -- a substantial sum.
Incidentally, some private universities (e.g. Vassar) quietly award financial aid to illegal alien students, according to Inside Higher Ed: A Message to Prospective Undocumented Students.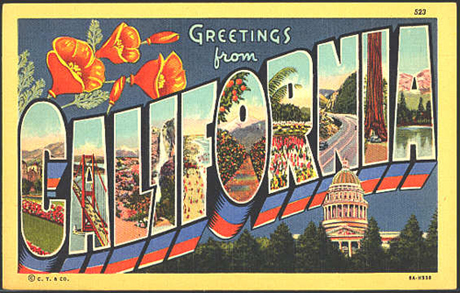 • • •
"Surge Two": Northward Flood of Mexicans Likely to Increase after U.S. Election [10/16/08]
Prof George Grayson is a Mexico scholar, and he doesn't pull any punches like many in academia do. He has written a CIS report describing the country's viability and speculating about the next turn of Mexico's demographic warfare against us.
As never before, Mexican opinion-leaders lament that their country - characterized by strong men and weak institutions in the modern era - risks becoming a "failed state." For scholar Frances Fukuyama, this status involves two dimensions of state powers - namely, its (1) "scope" or the different functions and goals taken on by governments" and (2) "strength" or the ability of governments to plan and execute policies. Among other things, strong states provide security, law enforcement, access to high-quality schools and health-care, sound fiscal and monetary policies, responsive political systems, opportunities for employment and social mobility, retirement benefits, and transparency. "Weak" states fall short in these areas; "failed" states receive "Fs."
Fire-breathing Cassandras are not the only ones bemoaning the growing debility of the Mexican state, but thoughtful, influential analysts as well. The pessimism extends even to those who voiced high hopes for President Calderon, an experienced politician, a social-democrat, and a moderate within the center-right National Action Party (PAN) who took office on December 1, 2006. [...]
Among the factors that buttress the "weak" and "failed state" arguments are mounting brutality; a soaring murder rate; an increase in kidnappings; the venality of local, state, and federal police forces; failure of policy makers to address hazardous conditions; and disenchantment with institutions occupied by officials who live like princes even as 35 percent of Mexico's 110 million people eke out a living in hardscrabble poverty.
• • •
Crisis, crackdown turn Mexicans off American dream [10/15/08]
This mildly sniffly retread of the disapointed-Mexicans-going-home meme is notable for a couple of illustrative quotes and statistics.
ACATZINGO, Mexico – Caught by the U.S. economic crisis and a crackdown on illegal immigrants, Mexican workers are increasingly quitting the United States and coming home, disillusioned with the American dream. [...]
"It's better to be poor back in Mexico than to be a hamster in its cage up there," Martinez said. Illegal immigrants in some cases can now expect lengthy prison sentences for breaking U.S. immigration laws. [...]
In the town of Tenancingo, which governs the villages of Acatzingo, Terranate and Tepalcatepec, mayor Gabriel Gallegos estimates that as much as a third of the 100,000 people from the town and surrounding villages are in the United States.
He jokes that in Delaware his constituents have settled "another Tenancingo," but he is worried the U.S. slowdown could send many people packing for home.
"If they all come back in a bunch, it is going to bring on a lot of economic problems, because we don't have jobs for them," Gallegos said. "Some who come back turn to crime."
• • •
A Somali Influx Unsettles Latino Meatpackers [10/15/08]
In a fine example of America's multicultural clash, one ethnic group (Somali refugees) displaces another (illegal Mexicans) in the workplace, and the hispanics are highly miffed, full of cultural criticism. Incidentally, the Mexes had earlier displaced unionized American citizens from meatpacking jobs, but that tiny detail goes unmentioned.
GRAND ISLAND, Neb. - Like many workers at the meatpacking plant here, Raul A. Garcia, a Mexican-American, has watched with some discomfort as hundreds of Somali immigrants have moved to town in the past couple of years, many of them to fill jobs once held by Latino workers taken away in immigration raids.
Mr. Garcia has been particularly troubled by the Somalis' demand that they be allowed special breaks for prayers that are obligatory for devout Muslims. The breaks, he said, would inconvenience everyone else.
"The Latino is very humble," said Mr. Garcia, 73, who has worked at the plant, owned by JBS U.S.A. Inc., since 1994. "But they are arrogant," he said of the Somali workers. "They act like the United States owes them."
Ain't diversity grand? I feel so enriched.

• • •

Judge tosses challenge to S.F. plan to issue illegal immigrants ID cards [10/14/08]
The open-borders theme park that is San Francisco has fluffed up its welcome mat for illegal alien criminals. The plan to issue identification to city "residents" with no other ID (illegal aliens) will go forward because the lawsuit filed by IRLI against the practice has been thrown out of court.
The ruling was a victory for city officials looking to implement the ID card program, which the Board of Supervisors approved in November but Mayor Gavin Newsom put on hold in August to make sure it complies with state and federal laws. Newsom's move came after a series of Chronicle articles explaining how the city regularly shielded young illegal immigrants from deportation after they were found guilty of felony crimes. That practice has since been stopped. [...]
"This is simply a step in a long process," said Patrick Skain, a former San Francisco firefighter who brought the lawsuit along with others. "We'll review what took place today and look at the nuances of the arguments and make a determination from there."
Skain and others argued that the ID program amounted to aiding and abetting illegal immigration and would lead to information being withheld from federal authorities probing such crimes.
Here's the Contra Costa Times story: Judge tosses challenge to S.F. plan to issue illegal immigrants ID cards.
Hopefully an appeal to the ruling will be forthcoming.

• • •

The Third Jihad [10/14/08]
The people who made the film Obsession have produced a second documentary, focusing on the plans of Muslims residing in America to subvert our culture and replace the Constitution with sharia law.
Below is the 30-minute online version of the new film.

• • •

For Mexico's teachers, jobs are things to inherit or sell, and they're on strike to keep it that way [10/14/08]
As I have written on many occasions, Mexico's progress-averse culture (using that excellent formulation from Prof Lawrence Harrison) makes Mexicans some of the worst immigrants on earth because of the incompatibility of their values with ours. Mexicans' disdain for education runs deep and lasts for generations, even when they reside in America. In Mexico, kiddies bribe teachers for better grades -- a practice made a little more understandable by this news report.
For today's example, consider the current teachers' strike in Mexico City, where the educators are demanding that their jobs remain inheritance based. Forget about professionalism or competence or social mobility.
"We're fighting to guarantee jobs for our kids," Oscar Miranda said as he helped teachers stage a protest in front of the governor's office in Cuernavaca, the capital of Morelos.
"Throughout history," Miranda said, "the sons of carpenters have become carpenters. Even politicians' children become politicians. Why shouldn't our children have the same right?"
Gordillo and Calderon have denied the teachers' accusations. Instead, they say Mexico urgently needs to overhaul its education system.
The plan would require teaching applicants to take government-administered exams before hiring or promotion. Pay raises would be linked to students' performance on standardized tests. The details are being negotiated in the states, which will administer the project. Most have pledged their support of its general outlines.
In other coverage, Britain's Daily Mail reported, Meet the teachers with a major discipline problem...
Next time these teachers ask their pupils to behave, they might find this picture returns to haunt them.
This protest erupted yesterday in the state of Morelos, south of Mexico City, when thousands of striking teachers clashed with riot police.
Meanwhile in Texas, Hispanic immigrants seen as slow to assimilate into American society.
No kidding. Mexicans' anti-assimilation attitude persists because they are only here for the MONEY; they despise our traditional culture (calling it "Anglo-Protestant") and the majority of Mexicans regard Americans as racist and corrupt.
How many more millions of these unfriendlies can America stand?
By 2050, the number of Hispanics in America will be triple what it was in 2005, jumping from 14 percent to 29 percent of the U.S. population, according to the Pew Hispanic Center of Washington, D.C., which studies the growth of America's Latino population.
The numbers are even higher in Texas, where Hispanics already make up more than a third of the population.
The large influx allows Hispanics to hold onto their culture and language longer than the last great wave of immigrants did a century ago, experts say.
• • •
Islamists Day Parade Gets Ugly [10/13/08]
Pamela Geller of Atlas Shrugs attended New York City's annual Muslim Day Parade and recorded the event with her camera. Be sure to click on the link above to see the whole nasty thing.
Below is Pamela's Youtube of the event, including plenty of Allah Akbars and intense hostility against Americans with signs saying they would not submit to Islam.
Urban Infidel prepared a thorough photo report as well.
• • •
Bill Monroe - Blue Moon Of Kentucky [10/12/08]
Here's a fine tune for a beautiful fall afternoon...
• • •
Army Orders Pain Ray Trucks; New Report Shows 'Potential for Death' [10/12/08]
The Pentagon is apparently big on non-lethal weapons. (The Modern Marvels show on the History Channel has had at least one episode surveying these futuristic gizmos.)
The latest news from the non-lethal military industrial complex is that zapper trucks dispensing pain rays are in the pipeline for the modern battlefield.
Non-deadly discomfort beams sound like just the ticket for large-scale behavioral reshaping in the border area. Can we get several? That locale would be a fine application for painless law enforcement, not to mention an excellent training opportunity for the military folks.
After years of testing, the Active Denial System -- the pain ray which drives off rioters with a microwave-like beam -- could finally have its day. The Army is buying five of the truck-mounted systems for $25 million. But the energy weapon may face new hurdles, before it's shipped off to the battlefield; a new report details how the supposedly non-lethal blaster could be turned into a flesh-frying killer.
The contract for the pain ray trucks is "expected to be awarded by year's end," Aviation Week notes. "A year after the contract is signed, the combination vehicle/weapons will start be fielded at the rate of one per month."
Only $5 million per unit! And surely the operators can keep that "potential for death" aspect under control.
• • •
Bush Gets Tough on Illegal Immigrants [10/12/08]
According to the New York Post (a supposedly conservative paper), Bush is doing a boffo job of immigration enforcement in his waning months. But only in comparison to his earlier performance.
Overshadowed by the economic crisis and the presidential race is the United States' recent, widespread crackdown on illegal immigrants, the most aggressive effort to arrest, detain and deport since the dragnet-style sweeps of the 1950s known as "Operation Wetback." Almost every month brings new stories of raids on workplaces - 300 arrested at a clothing factory in Massachusetts, 400 at a slaughterhouse in Iowa, another 600 at a computer technology company in Mississippi. This year there have been nearly 5,000 arrests, 10 times the level of just five years ago. While this remains a tiny fraction of the roughly 12 million unauthorized immigrants in the US, the raids are conducted in headline-grabbing fashion designed to incite fear among other undocumented workers.
Five thousand workplace arrests? We are supposed to think that is impressive? A 2006 Pew Report estimated the number of illegal workers to be 7.2 million or 5 percent of the workforce.
These are only the tip of the enforcement campaign. On any given day, more than 30,000 illegal immigrants are crowded into jail cells awaiting deportation. Annual deportations now exceed a quarter million, the highest level in US history. And, as the Department of Homeland Security proudly displays on its home page, 352.1 miles of fence has been built along the Mexican border, and 17,327 Border Patrol agents are deployed to guard what's left.
Again, a quarter million is hardly a dent in even the DHS' estimate of 12 million illegal aliens, and more credible numbers run far higher. In January 2005, two Bear Stearns economists calculated the number to be 20 million, based on numbers from 2004 and earlier.
It's a staggering turnaround for President George Bush, who only a little more than a year ago was fighting for extensive immigration reform, pushing for a new guest-worker program, and urging that unauthorized migrants already here be given some path (albeit long and difficult) to citizenship.
More spin. The 2007 amnesty legislation was a Christmas tree of goodies for illegal aliens. The path to legal employment (which is what's important to illegals, not citizenship) was not "long and difficult" at all. All an illegal had to do was show some connection to someone who was employed. As Kris Kobach wrote in the New York Post (Rewarding Lawbreakers, May 21, 2007):
To qualify for the Z-visa amnesty, an illegal alien need only have a job (or be the parent, spouse, or child of someone with a job) and come up with a scrap of paper suggesting he was in the country before Jan. 1 of this year. Any bank statement, pay stub, or similarly forgeable record will do.
Washington's true attitude toward immigration enforcement was demonstrated by the recent fight by elites against E-verify, one of the most effective weapons against illegal employment. McCain pledged to pursue amnesty from day one and Obama will certainly do likewise.

• • •

Mexican marijuana cartels sully US forests, parks [10/11/08]
Mexican drug cartels continue to pollute our national parks with their unique poison. (See my 2006 article Diversity Is Strength! It's Also...Poaching which includes information about the destruction of Sequoia National Park, where rangers eradicated 44,000 marijuana plants in 2004.)
National forests and parks — long popular with Mexican marijuana-growing cartels - have become home to some of the most polluted pockets of wilderness in America because of the toxic chemicals needed to eke lucrative harvests from rocky mountainsides, federal officials said.
The grow sites have taken hold from the West Coast's Cascade Mountains, as well as on federal lands in Kentucky, Tennessee and West Virginia.
Seven hundred grow sites were discovered on U.S. Forest Service land in California alone in 2007 and 2008 — and authorities say the 1,800-square-mile Sequoia National Forest is the hardest hit.
Weed and bug sprays, some long banned in the U.S., have been smuggled to the marijuana farms. Plant growth hormones have been dumped into streams, and the water has then been diverted for miles in PVC pipes.
Rat poison has been sprinkled over the landscape to keep animals away from tender plants. And many sites are strewn with the carcasses of deer and bears poached by workers during the five-month growing season that is now ending.
"What's going on on public lands is a crisis at every level," said Forest Service agent Ron Pugh. "These are America's most precious resources, and they are being devastated by an unprecedented commercial enterprise conducted by armed foreign nationals. It is a huge mess."
The first documented marijuana cartels were discovered in Sequoia National Park in 1998. Then, officials say, tighter border controls after Sept. 11, 2001, forced industrial-scale growers to move their operations into the United States.
Is it not shocking that Mexican crime syndicates have been systematically occupying and poisoning Sequoia National Park, one of the crown jewels of our park system, for a decade?

• • •

Limits urged on new arrivals [10/11/08]
Mark Krikorian's recently published book "The New Case Against Immigration" has put him on the interview circuit.
He appeared in a forum near Boston, and effectively noted the inevitability of the taxpayer getting hit.
Krikorian's premise: America has changed over the last century from an agriculture-based society that welcomed millions of low-skilled immigrants to a high-tech, service-based economy that demands higher skills. Uneducated workers, he says, tap into healthcare and other government-funded services and compete with American high school dropouts for jobs.
His proposal: Sharply reduce immigration from the 1.5 million immigrants who enter each year - which includes roughly 500,000 illegal immigrants. He would reduce the 12 million illegal immigrants in the country now by several million people. And he would allow 350,000 to 400,000 legal immigrants in a year, reducing the number of relatives that US citizens can bring in and admitting a limited number of high-skilled workers and refugees.
"In the conditions of the modern society, a person with low levels of skill and education, no matter how many jobs he has, no matter how hard he works, he cannot support a family . . . without support from taxpayers," Krikorian told the group. "It just can't happen."
Remember when immigration was touted as a financial benefit? Now the do-gooders hint that we Americans are too rich and need to redistribute our wealth to third-worlders who have elbowed their way in via illegal entry.

• • •

Primary school to serve pupils halal meat whether they're Muslim or not [10/10/08]
Britain countdown-to-suicide watch...
All pupils at a primary school face being served halal meat at lunchtime whether they are Muslim or not, it emerged today.
Dale Primary, which has a large proportion of Asians among its 550 pupils, is consulting parents about the controversial move.
Under the plans pupils would only be offered Islamic-approved meals on days when meat is on the menu to 'avoid cross-contamination'.
For meat to be classified halal, a Muslim must have slaughtered the animal from which it came by a single cut to the throat  and without stunning it first.
A prayer, including the words 'Allah is great', is said while single cut to the throat all the blood is drained.
• • •
Community torn apart by SC immigration raid [10/10/08]
The US stock market is cratering, but sob story industry continues to pump out its propaganda as if nothing has changed. Americans are suffering from spiralling job loss, but the MSM still have a special place in their pages about the discomfort of lawbreaking foreigners.
Today's subject is a well-fed foreigner who "moved" here (illegally) for a better life, spewing complaints that she got caught.
GREENVILLE, S.C. (AP) — When Magdalana Domingo Ramirez Lopez moved to this South Carolina city nearly two years ago to work at the chicken processing plant, she felt at home.
On weekends, the neighborhood near House of Raeford's plant was filled with the sounds of salsa music and the scents of Guatemalan cooking. She would shop with her three young sons at nearby businesses that catered to the immigrants -- some in the country legally, others not.
While the sights and sounds reminded Lopez of her native Guatemala, she said she was happy living in the United States -- a place that offered a better life for her family.
But those hopes were shattered Tuesday when federal agents swooped into the plant, arresting 330 suspected illegal immigrants, six of them juveniles, effectively shutting down the factory and tearing apart the close-knit community.
Lopez was arrested and could be deported, as her husband was two years ago.
"My whole life has changed," she said as tears rolled down her cheeks. "I don't want to go back. My sons are better off here. The country is so poor. There's nothing there."
TEARS! America is CRUEL because we retain a tiny semblance of law and sovereignty. Or so we are supposed to believe.
Does the MSM believe we should fling open our doors to the five billion persons on this little planet who reside in nations poorer than Mexico? Probably.
Incidentally, don't expect the Chamber of Commerce and other open-borders proponents to pipe down just because of a little looming economic chaos. On the contrary, ultra-cheap exploitable labor will be even more desirable to the captains of industry under such conditions. Amnesty will be ramped up as soon as the new President is inaugurated, whichever one is elected.
Business will complain to Congress and the President that it simply cannot afford citizen workers (with their requirements for a living wage) and must have even more exploitable foreigners or else the economy will worsen still further. Kind of like the Henry Paulson's recent demands for dictator-like authority to deal with the alleged credit crisis -- hand over what I want or else dire consequences will result.

• • •

For burned illegal immigrants, a long road to recovery [10/9/08]
A little over a year ago, there was a fierce wildfire in the San Diego hills and numerous illegal aliens were caught up in mid-invasion mode. As a result, taxpayers have been stuck for an enormous bill to provide top-notch healthcare for the Mexicans.

I wrote about the price tag last October in Wildfire Costs Include Expensive Healthcare for Illegal Mexicans. At that time, the San Diego Tribune had decent coverage about the dollars involved (and noted 10/31/07 "the average cost of treating a burn patient at UCSD was $45,000 for an average 15-day stay"). However, the recent LA Times update on the patients linked here was less informative, and was mostly a sob story on steroids, particularly the associated video.
One of the major medical parasites, Nicolas Beltran, who spent months in the burn center, figures he's entitled to the nearly one million dollars in medical care he has received from the unwilling taxpayer.
Beltran has trouble understanding why so many Americans judge immigrants harshly for working illegally and accuse them of driving down wages and taking jobs from legal residents. He argues that he is doing work Americans won't do for a price they won't accept. "They know they can pay us what they want. Americans want to make $20 or $30 an hour. In the nurseries, there isn't an American there," Beltran said.
He also recognizes that many Americans are angry about the cost of medical treatment for illegal immigrants, estimated at $750 million to $1 billion annually. But he figures that taxes deducted from migrants' paychecks helped pay for the nearly $1 million in healthcare he received from the UC San Diego hospital.
Another Mexican with funny ideas about math!

• • •

Honesty from the Left on Hispanic Immigration [10/9/08]
We must be deep in a cultural hole if even diversity-worshipping leftists are alarmed. Heather MacDonald comments about a new book...
John McCain and Barack Obama have largely avoided discussing immigration during the presidential campaign. But when it comes to the legal side of the issue, they both seem to support the status quo: an official policy centered around low-skilled, predominately Hispanic immigrants. A forthcoming book shows just how misguided that policy is, especially in light of the nation's current economic woes. The Latino Education Crisis: The Consequences of Failed Social Policies, by Patricia Gandara and Frances Contreras, offers an unflinching portrait of Hispanics' educational problems and reaches a scary conclusion about those problems' costs. The book's analysis is all the more surprising given that its authors are liberals committed to bilingual education, affirmative action, and the usual slate of left-wing social programs. Yet Gandara and Contreras, education professors at UCLA and the University of Washington, respectively, are more honest than many conservative open-borders advocates in acknowledging the bad news about Hispanic assimilation.
Hispanics are underachieving academically at an alarming rate, the authors report. Though second- and third-generation Hispanics make some progress over their first-generation parents, that progress starts from an extremely low base and stalls out at high school completion. High school drop-out rates—around 50 percent—remain steady across generations. Latinos' grades and test scores are at the bottom of the bell curve. The very low share of college degrees earned by Latinos has not changed for more than two decades. Currently only one in ten Latinos has a college degree.
Hispanics, and particularly Mexicans, are underachievers because their culture does not value education. In contrast, Chinese and some other varieties of Asian immigrants excel in the same schools where hispanics do poorly, because latinos apparently haven't noticed the real opportunities here; just 9.6 percent of fourth-generation Mexican Americans have a post-high-school degree, compared with 45.1 percent of Americans as a whole.
A recent education article made the same point of worsening underachievement among hispanics (Report: Minority college attainment up, but stalls):
However, significant gaps among racial groups remain, and by some measures are widening. In 2006, among 18- to 24-year-olds, 61 percent of Asian-Americans were in college. That compares with 44 percent of whites, 32 percent of blacks and 25 percent of Hispanics.
Department of Education figures show that in 2006, 18 percent of older Hispanics had at least an associate's degree, compared with just 16 percent of 25- to 29-year-olds. Council researcher Mikyung Ryu said the numbers do not suggest that's simply because students are delaying getting an associate's degree until after 30.
"The fact that this younger generation is attaining less than the older generation should really be ringing bells across this nation, and we really should be asking ourselves why," said Dolores M. Fernandez, president of Eugenio Maria de Hostos Community College, which is part of the City University of New York.
• • •
Federal probe into S.F. sanctuary city policy [10/8/08]
Interestingly, San Francisco's official policy of harboring illegal aliens is being investigated by a federal grand jury. Hopefully, the legal system is merely moving at its usual glacial pace, and justice will eventually reach the criminal protector Mayor Gavin Newsom and District Attorney Kamala Harris.
A federal grand jury is investigating whether San Francisco's policy of offering sanctuary to undocumented immigrants violates U.S. laws against harboring people who are in the country illegally, city officials say.
City Attorney Dennis Herrera said his office has hired a criminal defense lawyer to represent employees who might be questioned or asked for documents. He and Mayor Gavin Newsom said they would cooperate with the investigation.
San Francisco, like about 80 other U.S. cities and five states, has a law prohibiting the use of its funds to help enforce federal immigration law or to question individuals about their immigration status. The San Francisco ordinance, originally prompted by arrivals of refugees from Central American wars of the 1980s, specifies that police can report jailed felons to federal immigration authorities.
The Chronicle reported earlier this year that San Francisco juvenile justice authorities, interpreting the sanctuary policy, had flown some illegal immigrant youths to their home countries after Juvenile Court judges found they had committed felonies. Other youths were sent to unlocked group homes in this country and escaped.
Below, Mayor Gavin Newsom and San Francisco Police Chief Heather Fong, both strong supporters of sanctuary for illegal aliens.
• • •
White House Seeks To Halt Release Of 17 Detainees [10/8/08]
How evil can liberal judges get? Using American communities as a dumping ground for Muslim terrorists would have to rank high on the list.
Morning Edition, October 8, 2008 · This week could see a remarkable moment in American legal history, as 17 Guantanamo detainees are on the verge of being let out of prison. On Tuesday, a federal judge ordered the men released into the U.S. and told the Bush administration to produce the men in his courtroom Friday morning.
The detainees are 17 Chinese Muslims, known as Uighurs, who have been held at Guantanamo Bay in Cuba for nearly seven years. In past decades, the U.S. government has treated the group as Chinese nationalists. But in 2003, in an effort to accommodate the Communist Chinese government, the Bush administration listed one of the Uighur groups as a terrorist organization, using the designation as a rationale for the Uighurs' continued detention at Guantanamo.
However, a largely conservative panel of the federal appeals court in Washington, D.C., ruled in June that the group is not hostile to the U.S. and that the administration had produced no reliable information to justify holding the Uighurs. The case was then sent back to a lower court for further action, including the possibility of release.
Federal Judge Ricardo Urbina said Tuesday that, in essence, enough is enough. Whatever authority the government may have had for detaining the Uighurs has ceased, he said.
The government now concedes these men are not enemy combatants, Urbina noted, and has provided no other justification for detention.
Uighurs living in the United States have arranged for 17 families to take the men until more permanent arrangements can be made. Urbina said he would hear from the Department of Homeland Security as to any conditions it would like imposed on the men after release — conditions that could include a ban on travel and requirements that the men report to authorities on a regular basis. The judge reacted angrily, however, when Bush administration lawyers suggested they could imprison the men in the U.S. once the Uighurs are transferred here. It is expected he will forbid that.
This just in today, a temporary block to the release: Court blocks judge's order to free Chinese Muslims
A federal appeals court on Wednesday temporarily blocked a judge's decision to immediately free 17 Chinese Muslims at Guantanamo Bay into the U.S.
In a one-page order, the U.S. Court of Appeals for the D.C. Circuit issued the emergency stay at the request of the Bush administration. The three-judge panel said it would postpone release of the detainees for at least another week to give the government more time to make arguments in the case.
• • •
Spread of gangs tied to border-control [10/3/08]
Open borders allow foreign organized crime to enter at will. Such an idea verges on common sense, but in Washington, you can't just say that a stupendously dumb policy has led to a whole string of predictable bad results; a well researched report is required.
A "dangerous side effect" of America's failure to control the Southwest border and the nation's tolerance for high levels of illegal immigration has resulted in the spread of violent transnational gangs across the United States, including Maryland, Virginia and Washington, a report says.
A report written for the Washington-based Center for Immigration Studies (CIS) says the gangs represent a "significant menace to the public," with about 80 percent of the members involved in serious crimes in addition to immigration violations and another 40 percent having committed violent crimes.
"The recent emergence and spread of several Hispanic street gangs, most notably MS-13 and 18th Street, has attracted the attention of law enforcement agencies and political leaders nationwide," said Jessica M. Vaughan, an author of the report, which was made public Tuesday. "Many gangs are made up of small-time troublemakers, but others have a reputation for grisly violence.
"They are responsible for virtually the entire spectrum of criminal activity, from nuisance crimes like graffiti to murder. Some are becoming increasingly well-organized and operating as sophisticated crime syndicates across national borders," she said.
A nice PDF version of CIS' report is available: Taking Back the Streets: ICE and Local Law Enforcement Target Immigrant Gangs .
Here's an interesting item, which suggests the wisdom of police inspections of day labor sites...
Immigrant gang members rarely make a living as gangsters. They typically work by day in construction, auto repair, farming, landscaping, and other low-skill occupations where employers are less vigilant checking status, often using false documents.
• • •
Manual outlines Muslim radicalization in prisons [10/2/08]
The Muslim demographic takeover of Europe is proceeding at a gallop, and we Americans should pay attention to the European predicament in between swatting back battallions of invading Mexicans. One of Islam's tricky techniques is to utilize the enclosed audience which prisons provide to radicalize Muslims and convert infidels to the jihadist cause.
Security officials from several European countries have developed a manual to help prison authorities prevent their jailhouses from becoming incubators for Muslim extremists.
The manual, developed by France, Germany and Austria, includes signs that may indicate that a prisoner was becoming radicalized, including the presence of a growing beard. A prison group feared the manual could stigmatize Muslim inmates.
The document was distributed at a two-day closed-door conference of European security experts that ended Wednesday. It will be given to prison personnel.
Prisons "can be a facilitator and an accelerator" of radicalization and inmates are often "strongly destabilized" and therefore malleable, said Christophe Chaboud, head of France's Anti-Terrorist Coordination Unit.
"It is not a question of religion but of confrontation with the West," Chaboud said in a telephone interview.
Islam is the second-largest religion in France and, while there are no official figures available, Muslims make up a large part of the inmate population — the majority in some prisons.
• • •
Latest Immigration Wave: Retreat [10/2/08]
This Wall Street Journal begins by laying out a sob story about a poor Guatemalan illegal (sniff!) who was so broke from lack of work that he had to return to his own country. What is America coming to when we can't supply a middle class life for tens of millions of illegal alien foreigners?
So in January, Mr. Carrillo sliced open the green plastic piggy bank he'd bought at Wal-Mart and counted $3,100 in change and bills. "There was enough to buy a plane ticket home and ship my truck to Guatemala," recalls Mr. Carrillo, 37 years old. Now back in San Juan Alotenango, a town of dirt streets and sporadic running water, he hauls fruit, firewood and recyclable metal for a few dollars a trip.
But once you wade through the sob story tripe, there are some interesting facts.
The Census Bureau reported last month that the income of U.S. households headed by non-citizen foreigners dropped 7.3% in 2007 from the previous year, after rising 4.1% in 2006. Pew Hispanic says that among households headed by Central Americans, the drop in income has been in the double digits.
As a result, flows of money to Latin America from U.S.-based workers have slowed for the first time since the Inter-American Development Bank began tracking remittances in 2000. The rate of growth in remittances to Mr. Carrillo's home country of Guatemala has slowed in each of the past four quarters. The bank estimates that in the last quarter of this year, remittances will fall for the first time.
Some 1.35 million Guatemalan citizens -- 10% of the country's population -- live in the U.S., according to the Central American Institute of Social and Development Studies, an independent think tank in Guatemala. Some 3.5 million people back in Guatemala depend on these remittances to get by, the group says. Remittances are the top foreign-exchange earner for Guatemala, at $4.12 billion in 2007, ahead of coffee, sugar and other exports.
Such income fuels everything from construction and appliance sales to spending on services. When the remittances shrink, "the first things to go out the window are education and health care -- things that determine a family's long-term earnings potential," says Robert Meins, a remittances specialist at the Inter-American Development Bank.
An immigrant exodus wouldn't be unprecedented. As many as one-third of the nearly 30 million foreigners who arrived in the U.S. between the Civil War and World War I returned to their native countries. Arrivals from Latin America also ebb and flow, with the influx to the U.S. last slackening during the 2001-02 recession.
Yes, some go home -- it's normal! Let's encourage that trend.
And about those remittances... note that at least in some countries it's only the rate of growth that is not increasing. Foreigners are still stripmining and removing billions of dollars from the United States every year.

• • •

Glenn Beck - Islam in Europe - with Geert Wilders [10/1/08]
The Dutch member of Parliament appeared on the Glenn Beck show recently and stated clearly that immigration is the problem: Muslims come to Europe as "colonists" -- not persons who wish to join the western community. He hoped America would not be "the last man standing" against Islamization. Check it out.

Pamerla Geller also interviewed Wilders during his current visit: there's a 20-minute video clup posted on her blog Atlas Shrugs. He said many Europeans no longer feel comfortable and safe in their own countries because of the millions of hostile Muslims now residing there.
For more from Mr. Wilders, see a transcript of his Sept 25 speech at the Hudson Institute posted at JihadWatch:
I come to America with a mission. All is not well in the old world. There is a tremendous danger looming, and it is very difficult to be optimistic. We might be in the final stages of the Islamization of Europe. This not only is a clear and present danger to the future of Europe itself, it is a threat to America and the sheer survival of the West. The danger I see looming is the scenario of America as the last man standing. The United States as the last bastion of Western civilization, facing an Islamic Europe. In a generation or two, the US will ask itself: who lost Europe? Patriots from around Europe risk their lives every day to prevent precisely this scenario form becoming a reality.
As the excellent Gates pf Vienna blog is subtitled, today's conflict with Islam is "a new phase of a very old war." The Norwegian writer Fjordman descibes some of that history in his recent article, Fourteen Centuries of War Against European Civilization.
• • •