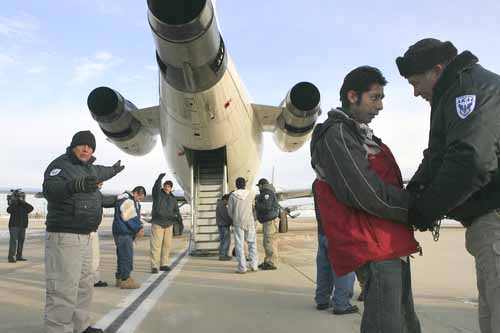 Among the various end-of-year enumerations, one of Obama's many falsehoods was notable: his "record deportations" turned out to be as big a whopper as ObamaCare's "You can keep your doctor."
Is el Presidente even deporting rapists, murderers and child abusers after prison? It doesn't sound that way. Only a tiny handful of foreign intruders are being repatriated.
Obama deported only 0.2 percent of 11.7 million illegals in 2013, Daily Caller, By Neil Munro, December 31, 2013

Fewer than 0.2 percent of the 11.7 million illegal aliens in the United States were deported in 2012 for violating immigration laws, according to data released by the U.S. Immigration and Customs Enforcement agency.

"It is a drop in the bucket," Jessica Vaughan, director of policy studies at the Center for Immigration Studies, told The Daily Caller. "Relative to the [agency] resources and tools they have been given to do this job, it is a record low," said Vaughan.

Government officials say they deported a total of 368,644 people. But almost two-thirds of those people, or 235,093, were caught at the border and promptly returned to their home countries.

Only 133,551 resident illegals were picked up in the interior of the country and deported, the ICE report admitted.

But 82 percent of those residents were deported for other offenses, ICE acknowledged. Those offenses include drunk driving, assault, robbery and drug possession.

The remaining 18 percent adds up to only 20,000 illegals of the 11.7 million illegals believed to be living in the United States.

That's only one immigration-law deportation for every 585 illegals. [. . .]
Meanwhile, liberal propaganda organs continue to pump out emotional tripe based upon the self-created problems of lawbreaking foreigners.
The Washington Post published one such item on Sunday about a family with an illegal alien dad who might get the hook. It reminded me of the dog-and-pony show I saw when Congressman Luis Gutierrez brought his magical amnesty tour to San Francisco in 2009: Treason Lobby Triumphant: Speaker Pelosi Boards Gutierrez Amnesty Express.
The opening act was a nine-year-old boy who complained of living in fear because his father might someday be caught and deported. The office janitor dad wasn't in jail or especially in danger because of American immigration laws, but just the slight possibility of deportation was considered a cruelty worthy of sympathy by the largely hispanic audience.
The Washington Post found a similar worried little boy in order to purvey its sob story:
Below, illegal alien Jorge Penate resides in Virginia with his wife Diane and son Jason.
It's too bad for the kid. It's tough being 12 and knowing your father might be sent back to Guatemala — although a deportation is unlikely after all this sympathetic publicity.
On the other hand, 2.7 million American kids have a parent in jail caused by deliberate lawbreaking and nobody writes sensitive newspaper stories about their emotional suffering.
Deportations of parents can cast the lives of U.S.-citizen kids into turmoil, Washington Post, December 29, 2013

Twelve-year-old Jason Penate spent the holidays hanging close by his father. They picked out a Christmas tree and decorated the front window of their Gainesville, Va., home with candy canes, and Jason tried very hard not to think about whether his father would still be here in the new year.

Jorge Penate, a Guatemalan national who came to the United States illegally in 1997, has a hearing scheduled Monday that will determine whether he can stay in the country. A drunken driving arrest two years ago launched deportation proceedings and cast his family's future into uncertainty.

Jason wrote a letter to the immigration judge, explaining that the three days his father was detained in 2011 "were the worst days of my life" and asking not to be separated from him again. "If he does have to leave I think every day of my life is going to be the worst," Jason wrote.

More than 1 million illegal immigrants were deported in the past three years, a record number reflecting increased enforcement efforts under the Obama administration. The crackdown has spun the lives of hundreds of thousands of U.S. citizens — including children like Jason — into upheaval. Continue reading this article