Tucker Carlson interviewed New York Times columnist Tom Friedman a few days ago about his new book, "Thank You for Being Late: An Optimist's Guide to Thriving in the Age of Accelerations." The discussion was about technology, which is the cause of the accelerations from the book title.
Carlson has a new prime-time show on Fox News, and he has apparently been given a degree of freedom about topics to explore, although he has not hit immigration much thus far. On the morning show he once inhabited, he showed a fair amount of interest in mass immigration and how it has affected many areas of American life.
Tom Friedman has lately turned his fuzzy gaze toward technology and the crazy speed-up of society, and even for a liberal columnist, he is a shallow thinker. I watched a C-SPAN video of a recent book talk he gave about the new work and found it to be remarkably boring, particularly for an important and fascinating subject. In his talk with Tucker regarding technology and employment, he chattered on with his little stories of a few new jobs developing in the more automated economy, as if those minuscule examples have anything to do with the economic tsunami we are facing.
Expert opinion is rather dire. A 2013 report from Oxford University researchers estimated that "nearly half of U.S. jobs are vulnerable to computerization" in less than 20 years. The Gartner analytical company predicts that one-third of jobs will be performed by robots by 2025.
How will the economy function in the automated future when paychecks are discontinued because there are no jobs?
In the 1940s, many Americans were employed in the production of cars and trucks.
Now, around 80 percent of automotive manufacturing is done by robots.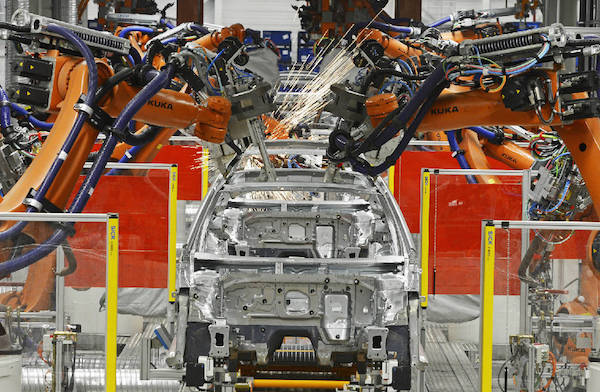 Why isn't Washington facing the jobless automated future? At the least, immigration should be terminated as a government policy, because automation has made immigration obsolete.
Tucker Carlson does seem to have sniffed out this logical progression, but Friedman appeared nervous to have his trite ideas about immigration challenged even a tiny bit.
(Spare Audio)
TUCKER CARLSON: When a lot of us were born, personal computers didn't even exist; today of course they're totally ubiquitous, and they're making more and more jobs obsolete. Today it's McDonald's employees, tomorrow it'll be millions of truck and taxi drivers with self-driving cars. Eventually it will be lawyers and physicians and so on. Will it ever be newspaper columnists and cable news anchors? We're praying not!

Joining this now is New York Times opinion columnist Thomas Friedman, author of "Thank You for Being Late: An Optimist's Guide to Thriving in the Age of Accelerations". Tom, thanks for coming on. You're very optimistic in this book, and I appreciate that because I love optimism, but I wondered as i read it, are people wired, from an evolutionary standpoint, to digest this pace of change?

TOM FRIEDMAN: There's no question Tucker that what's going on in globalization, in technology in particular, is now faster than the average rate at which humans and societies can adapt. I think people are feeling that sense of acceleration. One of my favorite quotes in the book is from John Kelly around the IBM Watson project, and he said to me when I was working on the book. he said you know Tom, when you buy a car, it comes with a sticker on the rear view mirror. It says objects in your rear-view may be closer than they appear that actually belongs in your front windshield out because it's the stuff coming at us is actually coming faster than you think. In fact I had an experience in this book I've never had before — I felt I had a butterfly net and I was chasing a butterfly and every time I got close, it moved. I had to interview the head of Intel at least three times in writing this book just to make sure nothing changed from six months earlier. So I was actually living that pace of change.

CARLSON: So I mean it's no one person's fault of course, though I do think a lot of us are very insensitive to its consequences, among them the political consequences. The last time we had a big technological disruption — the Industrial Revolution — we got 70 years of totalitarian Marxism out of that, our response to that. This is a more profound change, I mean how can you be hopeful about the political consequences? Continue reading this article