Illegal aliens have a lot for which to be thankful this season, given that Obama's unconstitutional amnesty will give work permits to at least five million foreign job thieves. Plus, the President's cornucopian package includes Social Security and Medicare even though the he claimed his amnesty wouldn't cover benefits that cost taxpayers billions of dollars yearly. In addition, businesses now have a big financial incentive to hire illegals because they are not required to receive Obamacare.
Funny how the system is being rejiggered to screw the citizens and benefit the invasive foreigners.
Border watchdog and filmmaker Dennis Michael Lynch appeared on Fox News on Thanksgiving morning to discuss the government's inducement to hire illegals, including some observations as a former employer:
LYNCH: Let me explain how this works using my own company. I used to have 250 employees. Fifty of them would be front office workers, sales, marketing etc, I gave them insurance. My guys in the back though, the lower-skilled, the lower-wage, I can't afford to give them insurance. So if I don't give them insurance I get hit with a fine. Now that fine could be anywhere from two thousand and five thousand, not three, could be anywhere between. So if you look at the higher range, if I don't pay insurance I have to pay a million dollar fine — five thousand times two hunderd employees. But now because Obamacare is not given to anyone legal US citizens or legal aliens, the illegal aliens — the five million or I think more like 10 million, who just got the work permits from President Obama — I can now hire them legally and get rid of my US citizen employees and save myself the million dollars. . .

I find something very ironic. He gave the other day after Ferguson a speech in Chicago about how it is that there are so many hardships in the black community and then he goes on and talks about his amnesty. Anybody who's familiar with this knows that amnesty of this kind throws the black community under the bus. We've got 22 percent unemployment for young black men, highest in this country, in some cities it's 50 percent.

So now what happens is that these people are all going to go in and take those jobs. Employers are going to be forced to hire the illegal aliens. if you think about it because the Obamacare businessman the employer mandate suffers you. It actually pins the employer versus the employee in a way that's like the Hunger Games, so you bring in the illegal aliens and that's it. I think he knows exactly what he's doing. It's devastating for the economy because you're going to look at those 200 employees that I had — where are they going? They're going on the welfare line. . .

And don't think for one moment that the illegal alien who just got this work permit who might be picking crops or hanging sheetrock is going to say "Ooh, now I can do that legally." They're going to be able to go to those better payroll jobs, working at UPS, working at the United States Postal Service. This is devastating to the American worker.
Few voices in the big capitol city speak on behalf of the citizen worker like Senator Jeff Sessions does. One bad example is the bought-off black leadership who care zero about working people of their race (or anyone else) keep drinking the amnesty Kool-Aid and pushing the far left racialist agenda. (Breitbart: Elite Black Leaders Praise Obama Exec Amnesty That Will Hurt Black Workers)
Meanwhile, the number of illegal border crossers is surging to get on the amnesty gravy train.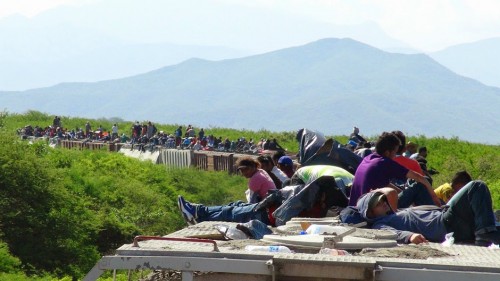 Obamacare offers firms $3,000 incentive to hire illegals over native-born workers, By Stephen Dinan, Washington Times, November 25, 2014

Under the president's new amnesty, businesses will have a $3,000-per-employee incentive to hire illegal immigrants over native-born workers because of a quirk of Obamacare.

President Obama's temporary amnesty, which lasts three years, declares up to 5 million illegal immigrants to be lawfully in the country and eligible for work permits, but it still deems them ineligible for public benefits such as buying insurance on Obamacare's health exchanges.

Under the Affordable Care Act, that means businesses who hire them won't have to pay a penalty for not providing them health coverage — making them $3,000 more attractive than a similar native-born worker, whom the business by law would have to cover.

The loophole was confirmed by congressional aides and drew condemnation from those who said it put illegal immigrants ahead of Americans in the job market.

"If it is true that the president's actions give employers a $3,000 incentive to hire those who came here illegally, he has added insult to injury," said Rep. Lamar Smith, Texas Republican. "The president's actions would have just moved those who came here illegally to the front of the line, ahead of unemployed and underemployed Americans."

A Department of Homeland Security official confirmed that the newly legalized immigrants won't have access to Obamacare, which opens up the loophole for employers looking to avoid the penalty. Continue reading this article